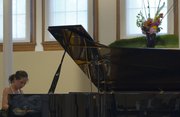 Summer schedule
Sunday: International Piano Competition Finals, 1 p.m. - 6 p.m. at Spooner Hall, 1340 Jayhawk Blvd. Event is free and open to the public.
Finalists: Lorraine Marie Chung, Anna Han, Albert Wang, Jonathan Mamora, Chaeyoung Park and Yang Ming Tian Zhao.
July 16: Winners Concert for the International Piano Competition. Tickets are $10 at the door.
The names of the finalists were written in time signatures and tempo Saturday afternoon for the International Institute for Young Musicians International Piano Competition.
Spooner Hall on the Kansas University campus filled with the energy and emotion of 12 talented young pianists from across the country and around the world. The IIYM Summer Music Academy program has been instructing musicians of the highest caliber in Lawrence for years.
This summer's competition featured two Lawrence contestants in 13-year-old Chaeyoung Park and 18-year-old Luke Rhodes. Rhodes, who operates his own music education studio, said the music that contestants played was more than notes on a page.
"This is personal for everyone," he said. "We spend enough time with these pieces that these are kind of like friends; they're kind of like people. I know these pieces."
That truth was evident Saturday, as each performer played from memory. Fingers seemed to float effortlessly across the keys of black and white as the contestants worked through their individual repertoires.
"You can see the kids just love it so much," said KU alumnus and IIYM President Scott McBride Smith. "They're totally into it every single minute."
To the casual listener, every piece played is impressive. Susan Elkins, wife of KU professor and competition judge Jack Winerock, sat along Saturday with dozens of other music enthusiasts.
"They all sound wonderful to me," Elkins said.
Winerock, though, has a different perspective on the process. As one of five judges with extremely well-trained ears, he picks up on the artistic personality and poetry in each piece. The judges, all decorated pianists themselves, took in every keystroke and crescendo before they selected the six finalists who will perform this afternoon.
The finals will include contestants from Australia, Singapore, California, Ohio and Arizona. They will be joined by Lawrence's Park.
And though Rhodes did not hear his name called for the final day of the competition, he said it wasn't all the contest was about.
"It's not like you're running a race where there's a clear winner," Rhodes said. "It's art."
Copyright 2018 The Lawrence Journal-World. All rights reserved. This material may not be published, broadcast, rewritten or redistributed. We strive to uphold our values for every story published.