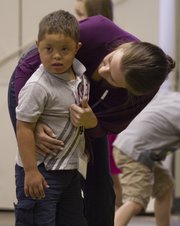 Last year, Stephanie Filbert's son, Jared, attended the Sertoma-Schiefelbusch Communication Camp.
The camp was great for Jared, 6, and helped with his communication difficulties; Filbert said her son made great strides. But being away from his older brother, Trenton, made Jared anxious.
So this year, Trenton, 8, attended camp with Jared at the Douglas County Fairgrounds.
Filbert, of Nortonville, said the camp has been an amazing experience for both of her children. She said Jared felt more comfortable with his older brother, and Trenton has learned more about Jared.
"It's not just a camp with volunteers; it's a camp with actual therapists," she said. "It's been very nice and comforting to know he's getting all of that there."
The Communication Camp facilitates interaction and communication among children, ages 4-10, with and without communication challenges.
Jane Wegner, clinical professor at Kansas University and director of the camp, said the mix of children offered unique advantages to both groups: Those with disabilities learned social skills, while the other campers gained an appreciation for individual strengths and differences.
The camp's staff consists of KU students, Schiefelbusch Speech-Language-Hearing Clinic employees and community volunteers. Students led the activities, teaching campers communication skills as well as gaining valuable teaching experience.
"I think it's a great experience for kids to be able to get together and work on socializing with their peers and helping each other out," said Amy Seeland, a speech-language pathology graduate student who worked at this year's camp. "I really wanted to be a part of something that I could help facilitate that interaction between the kids."
This year's camp, which had "Happy Birthday Kansas" as its theme, was the 11th edition. Campers sang songs, watched movies and made arts and crafts. The camp is a collaborative effort between the Lawrence Sertoma Club and the Schiefelbusch Clinic and concludes Friday.
Copyright 2018 The Lawrence Journal-World. All rights reserved. This material may not be published, broadcast, rewritten or redistributed. We strive to uphold our values for every story published.