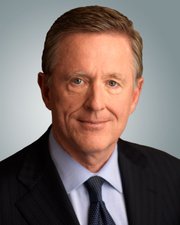 Kansas Athletics Inc. is working with an architectural firm on a concept to house James Naismith's original rules of basketball, said David Booth, the KU alumnus who purchased the rules at an auction intending for them to be displayed at KU.
"I talked to them this week. They're working on it," Booth said. "I think it's largely their call. I don't try to get too involved with it."
Booth said the future home of the rules could take the form of an addition to Allen Fieldhouse near the existing Booth Family Hall of Athletics.
Jim Marchiony, a Kansas Athletics spokesman, said on Friday a committee continued to work on the best way to display the rules. He didn't offer a timeline for completion or other details about the process.
Booth said keeping costs as low as possible was a factor in the considerations.
He said though he has his own opinions on what ought to be done, he was sure that Kansas Athletics would come up with a good way to display the rules for the public at a reasonable cost.
"I look forward to having something built, and having people see them anytime they want," Booth said.
Copyright 2018 The Lawrence Journal-World. All rights reserved. This material may not be published, broadcast, rewritten or redistributed. We strive to uphold our values for every story published.