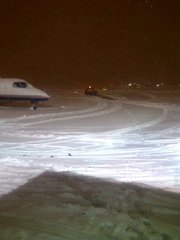 Former KU consensus first-team All-American Wayne Simien, who has a volunteer position at KU mentoring athletes in all sports and is basketball team chaplain, made the trip to D.C. with the Jayhawks for today's Lisa Robinson funeral.
Simien will have his jersey retired at halftime of Saturday's game against Kansas State (6 p.m., Allen Fieldhouse).
Simien, who wore jersey No. 23 at KU from 2002-05, ranks 12th all-time at KU in scoring (1,593), seventh in rebounding (884) and fourth in double-doubles (38). He helped KU to a 110-28 record during his career, winning three Big 12 Championships, while reaching two Final Fours and an Elite Eight. Simien was also a two-time All-Big 12 First Team selection (2004 and 2005). He was the 2005 Big 12 Player of the Year.
Simien commented on the Jayhawks' snowy travels on his twitter account (@waynesimienctg) Wednesday night:
"Just landed in a blizzard in D.C. Our pilot is a stud."
And ... "We just got stuck in the snow...on a runway...in a plane! That's a first. Snow plows to the rescue."
Copyright 2018 The Lawrence Journal-World. All rights reserved. This material may not be published, broadcast, rewritten or redistributed. We strive to uphold our values for every story published.