Photo Gallery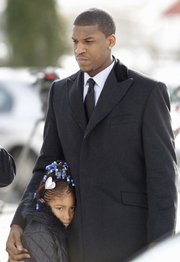 Funeral for Lisa Robinson
The funeral for Lisa Robinson, Kansas University basketball player Thomas Robinson's mother, was held Thursday morning at the Antioch Baptist Church in Washington, D.C.
"It was a beautiful service," KU coach Bill Self said in a release. "It was sad, but also very uplifting. It was great to see that Lisa had so many family and friends come to pay their respects and pay tribute to her.
"I know our team was very glad and proud that we were able to come. We certainly appreciate the NCAA giving us some allowances for that to happen.
"I'm sure Thomas will tell everybody in his own way that he personally appreciates very much all the thoughts, prayers and support he has received and felt throughout this trying time, and I know his family does as well."
Before the service, Lisa's children – Jamah, Thomas and Jayla – each put a white rose into her casket. Thomas also placed a KU basketball jersey into the casket, while Jayla put a stuffed toy Jayhawk next to her mother.
"We're family, and this is something we wanted to do for Thomas," Kansas senior guard Tyrel Reed said in a release. "Thomas is our brother and he and Jayla are hurting. We'll do anything we can to make sure they get through this. Our support will continue for them in the future; we want what is best for them. We want them to be in the best situation and have the utmost opportunities."
Family has requested that, in lieu of gifts, contributions be made to the Lisa Robinson Scholarship Fund c/o SNR Denton, 1301 K Street NW, Suite 600, East Tower, Washington, DC 20005-3364. The fund will benefit Lisa Robinson's 9-year-old daughter, Jayla. The Scholarship Fund will be administered by Christopher "Kit" Smith of SNR Denton US LLP and other fiduciaries selected by SNR Denton. Contributions to the Lisa Robinson Scholarship Fund are nondeductible for tax purposes.
Copyright 2018 The Lawrence Journal-World. All rights reserved. This material may not be published, broadcast, rewritten or redistributed. We strive to uphold our values for every story published.