When Colorado senior guard Cory Higgins first heard the news last April, he wasn't particularly fond of the development.
Coach Jeff Bzdelik, who shared a vision with Higgins of elevating Colorado basketball to a consistent contender in the Big 12, was leaving after three years to become the head coach at Wake Forest.
Life as Higgins knew it on the basketball court was about to change abruptly.
"I wasn't excited about the situation to begin with," Higgins admitted. "I don't think any senior would have been."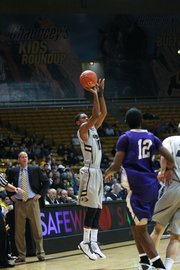 Instead of promoting an assistant who was familiar with CU's players, the Buffaloes looked outside the program to Tad Boyle, who coached Northern Colorado the previous four years, to take over for Bzdelik.
Bzdelik's departure hit Higgins hard at first.
They both arrived in Boulder in 2007, Higgins as a freshman, Bzdelik as the first-year CU coach. Last season, the Buffaloes made noticeable progress under Bzdelik, finishing 6-10 in the Big 12 and eighth in the conference standings. If that doesn't sound like progress, consider that Colorado finished last in the Big 12 in Higgins' freshman and sophomore seasons and won a total of four conference games from 2007-2009.
This year, with Higgins back for his senior season, along with sophomore star-in-the-making Alec Burks, CU was thought to have the pieces to make some noise in the league.
Still, Bzdelik bolted. Higgins, a 6-foot-5, 180-pound native of Danville, Calif., felt a natural sense of disappointment.
It didn't take long, however, for that disappointment to turn into excitement. All it took was Higgins' first meeting with Boyle.
Boyle, a former Kansas University guard from 1981-1985, held a team meeting with his new group shortly after accepting the CU job on April 19, 2010. After the meeting, he pulled Higgins aside.
No one else was around. Just the first-year CU coach and the fourth-year CU senior.
"My message to him was this: Listen, Cory, this is your senior year," Boyle said by phone on Monday. "I've been coaching college basketball for 16 years. But for you, you only get one crack at your career, and you're going into your senior year. You only have one senior year. I want to make it as special for you and all of our seniors as I can. The only way we do that is if we keep this group together."
Higgins said the candid meeting with Boyle made him connect with his new coach rather quickly.
"He wanted me to trust him," Higgins recalled. "And he asked for my trust. I could tell that from him just looking me in the eye that I could trust him."
Heading into today's 7 p.m. matchup against No. 6 Kansas (18-1, 3-1 Big 12) at the Coors Events Center, the Buffaloes (14-6, 3-2) are one of the surprise teams in the conference. They've already taken care of No. 11 Missouri and Oklahoma State in Boulder, and stunned Kansas State in Manhattan. CU sits in a tie for fourth in the league standings.
Colorado, like several teams in the Big 12, has had its share of road woes, losing at Nebraska and at Oklahoma. Nonetheless, these don't appear to be the same old bottom-feeder Buffaloes.
From the time Boyle held his first Colorado practice, a noticeable change from the recent past was evident.
• Boyle hands out tips of the day to his players. He does this daily. There's an offensive tip, a defensive tip and a quote of the day. It's fair to say that Buffaloes players are best-served learning all three quickly.
"It's almost like a homework assignment," said Higgins, who averages 16.1 points per game, second on the team to Burks' 19.6. "I thought it was pretty interesting. If you don't remember all three, then we're going to run. It just makes us more mentally in-tune in practice."
Higgins said sample tips included pressuring the ball, staying in your stance, sprinting to offense and sprinting to defense. The consequence for forgetting the tips results in extra conditioning. Boyle has the team run what Higgins called 22's. Down-and-back, down-and-back — the full length of the court twice — in 22 seconds or less.
"It's not too bad. But if you keep piling them on, they get pretty bad," Higgins said, laughing.
• Boyle conducts an intense box-out drill every day in practice. Why? Colorado ranked dead last in the Big 12 in rebounding for all three of Bzdelik's seasons in Boulder.
The box-out drill is rather simple. Shot goes up. You box your guy out and do anything you can to grab the rebound. All parts of the gym are fair game.
"There's no out of bounds, so it's just the first one to get the ball," Higgins explained. "Guys are flying around, flying into chairs. It's pretty intense, but it's fun. I think (Burks) went up to the third or fourth row to get a ball one time."
Colorado grabbed only 28.5 rebounds per game last season. This year, they're already up to 36 per contest. And even though that's only good for ninth in the league, they're not last anymore.
• Boyle, 47, has altered Colorado's style of play. For the most part, Bzdelik engineered slower, more methodical offensive sets where CU would run the shot clock down to single digits with regularity. Not these Buffaloes.
"We want a high-possession game," Boyle said. "We want to get out and run. We play at 5,200 feet. I would say it's not a coincidence that the Olympic Training Center is in Colorado (Colorado Springs). It's not a coincidence that we have world-class runners and cyclists that train in Boulder, Colo. You train where we train, and you can go when you go down to sea level. When they come to play you? They're going to feel it. We have to take advantage of that."
Two of the last three years under Bzdelik, Colorado ranked 305th or slower out of 345 Div. I teams in the country in tempo. This season under Boyle, the Buffaloes are 126th in the country in tempo, averaging 68.4 possessions per game. The NCAA average is 67.2.
Under Boyle's leadership, Higgins said he hopes Colorado's rise in the conference standings continues. Colorado hasn't made an NCAA Tournament appearance since 2003. The highest CU has ever finished in the Big 12 standings was second, but that was back in 1996-97. Since then, the Buffs have been no higher than fourth.
"I think he's going to take us places we haven't been in the past few years," Higgins said of Boyle. "We're already a tight-knit group of guys. I think the chemistry is there. Our goal is to get to the NCAA Tournament. I don't think we should sell ourselves short of that."
Copyright 2018 The Lawrence Journal-World. All rights reserved. This material may not be published, broadcast, rewritten or redistributed. We strive to uphold our values for every story published.