Your daily dose of news, notes and links from around Kansas University.
• Civil engineering students at KU will be able to partake in a new lecture series, thanks to a $100,000 gift from the family of the late Jelindo Angelo Tiberti, who founded the J.A. Tiberti Construction Company in Las Vegas.
Tiberti's son, Jelindo Angelo Tiberti II, said in a news release that he and his siblings thought their father would have appreciated the lecture series.
"Education was always a huge part of my father's and mother's lives," he said. "We chose a lecture series because we wanted to give something that people could benefit and learn from and that could live on."
The series will present lectures on civil engineering, ethics and contributing to society at large.
• One of the more random aspects of my job involves answering Sound Offs, which are reader-generated questions that involve any number of topics.
I know it's a popular section of the paper, so I try to answer the questions as completely as possible.
I've created open records requests to answer readers' questions before, and I distinctly remember how once, a Sound Off question led to a previously undiscovered part of former athletics director Lew Perkins' contract.
Anyway, I also get my fair share of strange questions, too. I thought this one was a little odd, dealing with former police chief Ron Olin's role with the basketball team.
I hadn't seen Olin doing the kinds of things this reader described on TV, so I just posed the question to associate AD Jim Marchiony, who told me Olin doesn't deal with any particular team, but rather athletics as a whole.
Later, though, Marchiony wrote me back, and had a brainstorm.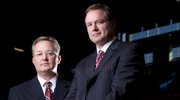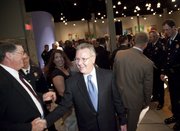 "Someone made a great point to me today, one I wish I had thought of when you first sent me the question," Marchiony wrote. "I'll bet the person who asked that question is mistaking (KU director of men's basketball operations) Barry Hinson for Ron Olin."
I bet so, too. They do kind of look the same, if you squint just right. So, there you have it, faithful reader who sent in the Sound Off question, a better answer.
• A Heard on the Hill tipster saw fit to include me on a massive e-mail that had 161 other recipients announcing a new study abroad program to India.
That person's reward?
A bit of free publicity for the program, which is a three-week study abroad program starting May 23. The program features one week of "full immersion" with India's top artists in the ancient temple city of Bhubaneswara, and two weeks of music and dance workshops with Indian teachers and artists in the Himalayas.
Applications are due on March 1, and more information is available by e-mailing KU's Office of Study Abroad.
Students can earn credit in a number of dance, religious studies and anthropology courses.
See what nifty things can happen when you submit tips for Heard on the Hill? You never know what might come of it…
• Heard on the Hill is always a "full immersion" experience. Find out what all the fun is about by tacking on ahyland@ljworld.com to your massive distribution lists.
Copyright 2017 The Lawrence Journal-World. All rights reserved. This material may not be published, broadcast, rewritten or redistributed. We strive to uphold our values for every story published.