Lawrence residents of all different races and ages woke up early Monday morning to honor the legacy of Martin Luther King Jr. and hear Kansas University basketball great Wayne Simien speak.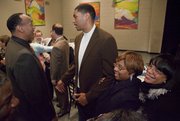 King's mentor, his method and motivation were the topics of Simien's speech, in which he called for parents to take the time to mentor their children. In a generation that is seeing many broken homes, he said this was a big step toward preparing the next generation for change.
"We could very well be overlooking the next instrument of change," he said. "We could very well be overlooking the next Martin Luther King."
Simien also spoke of King's method, which was service to others, and his motivation in his work, which was his dedication to God.
The Rev. Paul Winn Jr., an organizer of Lawrence's Martin Luther King Jr. Day events with Lawrence Ecumenical Fellowship, saw many of these very qualities in Simien.
"I think as a mentor there's an uprightness that comes forth and the inspiration there to become a dreamer," he said.
Marlon Wesley brought his 10-year-old son, Curtis, to the breakfast. Curtis, a basketball player himself, was excited to see Simien, but Wesley said there was a bigger theme to think about.
"It's a good occasion to come out and celebrate the legacy of Dr. King," he said. "Lawrence is an interesting place. Everybody comes out; every ethnic background comes out."
Simien said he was honored to be asked to speak at the community breakfast.
"Particularly being someone from a younger generation who didn't experience those types of injustices, but yet, at the same time, as a beneficiary of what he was able to accomplish, it was important to share from my perspective," he said. "Just to see the diversity here, not only ethnically but also age-wise, was really encouraging to see, particularly some of the youth here, to take time to get up early in the morning — about a man who changed this nation."
Copyright 2018 The Lawrence Journal-World. All rights reserved. This material may not be published, broadcast, rewritten or redistributed. We strive to uphold our values for every story published.