K-10 in De Soto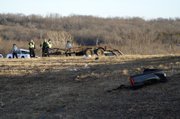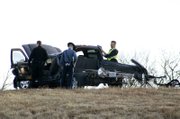 De Soto — Westbound lanes of Kansas Highway 10 in De Soto have been reopened following an injury accident Thursday evening.
A white pick-up truck was traveling east on Kansas Highway 10 when the trailer it was hauling came loose and crossed the median, striking a black Chevrolet half-ton pick-up truck on the roof about 4 p.m. on Thursday, Jan. 6.
The driver of the black pick-up, registered in Missouri, was transported to Overland Park Regional Medical Center in critical condition.
A third vehicle, a maroon sedan, was also involved in the accident, striking the black pick-up after avoiding the loose trailer. The female driver of that vehicle sustained minor injuries and was also transported to OPRMC. The driver of the white pick-up sustained no injuries.
The Kansas Highway Patrol was in charge of the scene and had the west-bound lanes of K-10 closed at Kill Creek Road. Drivers were being redirected through De Soto to the Lexington Avenue exit. The affected portion of K-10 was closed for several hours.
Copyright 2017 The Lawrence Journal-World. All rights reserved. This material may not be published, broadcast, rewritten or redistributed. We strive to uphold our values for every story published.