Press Conferences & Post-Game Interviews
KU coach Bill Self
Kansas coach Bill Self talks to reporters following the Jayhawks' 83-56 victory over Miami (Ohio) on Jan. 2, 2011.
Photo Gallery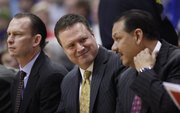 KU vs. Miami (Ohio)
-->
Extremely sore from a series of excruciating practices, Josh Selby turned to a loved one for treatment before Sunday's game against Miami University.
"My mom gave me a soft-tap massage," Selby, Kansas University's freshman combo guard, said with a smile after bouncing back from a two-point effort against UT Arlington with an 18-point, seven-rebound, five-assist outing in KU's 83-56 victory over the RedHawks at Allen Fieldhouse.
The massage worked.
"I got my legs back," said Selby, who hit seven of 12 shots overall, including four of five threes.
The 6-foot-2 Baltimore native showed incredible leaping ability on a vicious one-handed slam that gave KU a 28-11 lead with seven minutes left in the first half.
"I wanted to break the rim down," said Selby, who grinned when informed his mom, perhaps remembering the therapeutic massage, jumped out of her seat and cheered the play wildly.
"She did? I've got to watch the replay on that," Selby said.
His dunk was one of KU's 10 — many of the highlight-reel variety.
Marcus Morris had a violent dunk on a play in which he was fouled, giving KU a 39-15 lead.
Earlier, Travis Releford tossed the ball off the backboard to a trailing Elijah Johnson for a jam that gave the Jayhawks a 21-11 advantage.
"I think everybody that dunked today got that nickname, 'Showtime,''' said Selby, who goes by that moniker. "There were some amazing dunks."
KU coach Bill Self approved of all the dunking, but didn't like one that failed. Johnson threw the ball off the backboard to a trailing Thomas Robinson in the second half, a play that failed miserably.
"I didn't say anything the first time, It was a 2-on-zero," Self said of the flashy Releford feed off the backboard. "The second time wasn't a 2-on-zero. Elijah has to play a lot smarter than that. Elijah throwing the ball off the backboard, it was just really silly. We got up by 33 and did some brain-dead things."
The Jayhawks played much harder than Wednesday, following strenuous Self-run practices Thursday, Friday and Saturday.
"The hardest practices I've ever had in my life," freshman guard Selby said of practices that Marcus Morris (18 points to brother Markieff's 20) said were "way, way harder" than preseason Boot Camp, which immediately sent him to bed for recovery time. "Just a lot of running. I hope we improved (defensively) because I don't want to go through another practice like that."
Self said he didn't know if the difficult practices were the reason for improved play (Miami hit 39.2 percent of its shots to KU's 57.4), "but I hope we can bottle it up and keep moving forward.
"We've spent a lot of time together the last few days, and when I say a lot, that is an understatement. I think the guys were excited to play against somebody other than themselves," Self said.
Self was enthused by the play of Selby, who hit one of nine shots against UT Arlington.
"He was disappointed in his own play the other night," Self said, adding, "He shot the ball well beyond the arc ... defense, rebounding, he was more a complete player today."
And he returned to having fun. He saluted after icing a three to give KU a 33-11 lead, just a couple possessions after his vicious dunk.
"I was cold last game, so when I finally hit my three, I was happy," Selby said. "I just had to salute Tyshawn (Taylor, four points, five assists) after that. That's what we do. When he dunks, he salutes me. When I hit a three, I salute him because he gave me the pass."
KU will meet UMKC at 7 p.m. Wednesday in Allen.
Copyright 2018 The Lawrence Journal-World. All rights reserved. This material may not be published, broadcast, rewritten or redistributed. We strive to uphold our values for every story published.