Press Conferences & Post-Game Interviews
KU coach Bill Self
Kansas coach Bill Self talks to reporters following the Jayhawks' 83-56 victory over Miami (Ohio) on Jan. 2, 2011.
Photo Gallery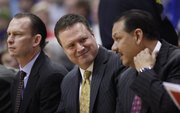 KU vs. Miami (Ohio)
Johnson's minor matter
The website of the Douglas County sheriff's office indicated Kansas University sophomore Elijah Johnson was arrested Saturday night for failure to appear in Douglas County District Court. An item on the website said Johnson paid a $100 fine.
KU coach Bill Self said Johnson hadn't done anything wrong. KU officials said the situation was a minor matter.
Associate athletic director Jim Marchiony said Johnson went to KU's police department on his own Saturday after being made aware of the matter.
"He had an unpaid traffic ticket from a long time ago," Self said. "He took care of it months ago through an attorney. I don't know what happened since then. That all will be rectified by tomorrow morning.
"It (ticket) was paid. I don't know if it was clerical. He handled it through his attorney a while ago. I'm sure Elijah will talk to him (attorney) about it because it was handled months ago. He hasn't done anything wrong," Self noted.
Self on new AD
"We're going to have a new boss, aren't we?" he said of former Illinois State AD Sheahon Zenger. "I do not know him personally, but I have spent a lot of time on the phone with him in the last couple of months. I'm very impressed. Everyone is going to be overly impressed when they hear him speak. He's a solid guy. Jank (Illinois State head coach Tim Jankovich) loves him, and he won't steer us wrong. He said he (Zenger) is almost too good to be true, with the way he can motivate and lead, and just be a normal guy, too. I'm really excited about Sheahon and his family coming in, and they will do a great job.I know he has a ton of energy, which is important as he leads us at this time of so much opportunity."
Withey starts
Jeff Withey started his first game of the season. Other starters: Josh Selby, Thomas Robinson, Tyshawn Taylor and Tyrel Reed.
Game time set
The game time has been set for Sunday's KU-Michigan game. It'll tip off at 3:30 p.m. Central Time on CBS.
Copyright 2018 The Lawrence Journal-World. All rights reserved. This material may not be published, broadcast, rewritten or redistributed. We strive to uphold our values for every story published.