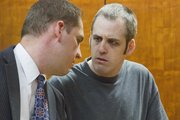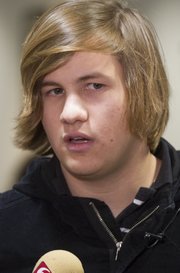 A Douglas County judge on Monday sentenced a 31-year-old Lawrence man to serve nearly 14 years in prison for a June 2010 attack on a woman on a southwest Lawrence bicycle path.
Before handing down the sentence, District Judge Peggy Kittel told William E. Nichols that he committed an unprovoked attack in the middle of the afternoon in a public area.
Nichols had pleaded guilty in January to aggravated kidnapping, aggravated battery and aggravated sexual battery in connection with a June 16 incident when a 23-year-old woman was attacked and stabbed on a bike path between the Youth Sports Complex and Clinton Lake.
"We believe that the aggravated (sentence) in this case is warranted and justified under the conduct by Mr. Nichols," District Attorney Charles Branson said.
Kittel followed a plea agreement between two parties to order Nichols to serve the harshest sentence he could for the aggravated kidnapping count. She ordered Nichols to concurrently serve lesser sentences for the other two charges. He must register as a sex offender for life.
The woman, who no longer lives in the country, spoke in court and said the event affected her in several ways.
She still experiences physical pain in the facial area, and she's become scared when she comes upon strangers walking down the street.
"I do not trust anybody who I do not know anymore," the woman said.
She also thanked two 19-year-old Lawrence men, Aidan Waugh and Nathaniel Mehl, who assisted her and chased away her attacker. Police later arrested Nichols in the area that day.
The woman said she didn't want to take revenge on Nichols.
"I feel sorry for him, and I hope one day I will be able to pray for him," she said.
Nichols apologized to the victim.
"You didn't do anything wrong or do anything that caused me to attack you," he said. "You were just unlucky and at the wrong place at the wrong time."
He said he "didn't understand himself" at the time of the attack and was experiencing many financial and family hardships. Nichols said he didn't have health insurance and that he tried to seek mental health treatment in Topeka and Lawrence before the incident but was unable to pay for it.
Defense attorney Michael Clarke didn't ask Kittel to depart from the plea agreement in the case, but he instead made comments in court about the danger of state budget cuts to mental health services.
"I think that should weigh heavily not only on what this court does, but what this community does as well," he said.
Kittel said the victim in the case still suffered from the effects "of this brutal attack."
"Unfortunately our prisons are full of people who have mental health issues, and also unfortunately that doesn't change the effect that this crime had on the victim," she said.
Mehl and Waugh, who were honored by the city last year for their actions, sat in the audience during the hearing. Mehl said he thought the sentence should have been harsher, but he was still pleased Nichols was given prison time.
He also said he was glad the victim was able to speak in court.
"I thought it was a pretty courageous thing she did," Mehl said.
Copyright 2018 The Lawrence Journal-World. All rights reserved. This material may not be published, broadcast, rewritten or redistributed. We strive to uphold our values for every story published.