Photo Gallery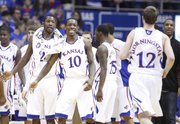 KU vs. Colorado
Press Conferences & Post-Game Interviews
KU coach Bill Self
Kansas coach Bill Self talks to reporters following the Jayhawks' 89-63 victory over Colorado on Feb. 19, 2011.
Kansas University sophomore forward Thomas Robinson, who had surgery on Feb. 11 to repair a torn meniscus in his right knee, worked out for an hour before the game Saturday.
"I feel good. I'm moving well again," Robinson said. "I tried jumping and stuff and didn't lose anything. I feel I can get back to practice this week, maybe try to play a couple minutes Monday (versus Oklahoma State, 8 p.m., Allen Fieldhouse), but that's still up for grabs. I'm going to try to get some minutes Monday, but I'll be ready for Saturday (at Oklahoma) for sure."
The original prognosis had Robinson missing two weeks.
"I had no doubts. You cannot break me, man," he said with a smile. "I mean, this is something minor, a speed bump in the road, nothing I can't handle. The injury is over with. I'm coming back. I'll be ready next week."
Highlight-reel dunk
Freshman guard Josh Selby bounced the basketball hard off the floor to a hard-charging Travis Releford, who finished a highlight-reel dunk with :29 left.
"I saw John Wall do it yesterday in the All-Star game," Selby said of the NBA rookie-sophomore game. "I did it a couple times in pick-up games. I just wanted to bring it over here and get Travis a dunk.
"He was surprised I threw it. He thought I'd take it myself like everybody else. He was surprised and reacted a little late," added Selby, who said he'd be watching SportsCenter in hopes of seeing the play on the day's top-10 list.
Selby had several alley-oop lobs to Markieff Morris.
Selby said his right foot (stress reaction) was 80 to 85 percent healed.
The shot
Former KU guard Mario Chalmers of the Miami Heat told the Jayhawk Radio Network at halftime he was thrilled to watch the pregame video in which his game-tying shot against Memphis in the 2008 national title game is featured.
"It's the first time I've seen it since I've been gone," Chalmers said of the video. "It sent chills up my body. It makes me want to be out there again."
He said he thinks of the shot, "about every week. It's one of the greatest moments of my life."
NBA talk
NBA players Chalmers, Cole Aldrich (Oklahoma City Thunder), Xavier Henry (Memphis Grizzlies) and Sherron Collins (Charlotte Bobcats) sat two rows behind KU's bench.
"I miss everything. I miss all of this. It's fun being back," said Henry, who wore a Houston Astros baseball cap. "Seeing all of the kids (students), seeing all of my friends playing … I enjoy it."
Collins, who wore a Cleveland Cavaliers hat — "Just matches my outfit," he joked — arrived just before halftime because of a flight delay from Chicago.
"I've got some fight in me. I learned I'll fight through any situation," Collins said of making an NBA team despite going undrafted.
Aldrich joked: "It's exciting to be back here, to see all these guys, not Sherron as much. Xavier is nicer. It's a lot of fun seeing familiar faces and living the college life for a few days again."
Howdy, coach
Kansas City Chiefs coach Todd Haley attended and sat a few rows behind KU's bench.
Faces in crowd
Former KU players Jeff Graves, Aaron Miles and Wayne Simien attended, as did former KU football receiver Marcus Henry of the Carolina Panthers.
Recruiting
ESPN's Dave Telep reported on Twitter on Saturday night that prize recruit Ben McLemore as well as Sidiki Johnson, "per a source, left Oak Hill (Academy) and are no longer part of the basketball team." The 6-foot-5 McLemore, who is Rivals.com's No. 17-rated player, will sign with either KU or Missouri in April.
Copyright 2018 The Lawrence Journal-World. All rights reserved. This material may not be published, broadcast, rewritten or redistributed. We strive to uphold our values for every story published.