Photo Gallery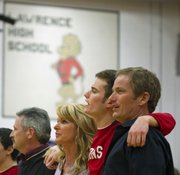 Lawrence High boys vs. Olathe Northwest
Lawrence High's gameplan entering Friday's matchup with Olathe Northwest was simple: contain 6-foot-9 force Willie Cauley inside and force the Ravens to hit outside shots.
And for the most part, the Lions did it, holding the Ravens to 1-for-14 three-point shooting.
But junior Shane Willoughby's 25-foot three-pointer with two seconds remaining missed the mark, giving the Ravens a tough 41-40 victory on Senior Night at LHS.
Coach Mike Lewis acknowledged that his players, especially his seniors, were pretty down about letting an opportunity to knock off a 13-2 team slip away.
Seniors Jake Johnson, Trent Edwards, Ross Johnson and Garrett Wagner were honored in a pregame ceremony.
"They wanted it," Lewis said. "They're a very classy group of young men. It's too bad that we can't go out on a good note."
All the seniors played except Wagner. Lewis said Wagner's benching was an "internal matter." Wagner will play next week.
After junior Logan Henrichs banked in a three-pointer, the Lions led, 38-37, with 2:21 to go in the fourth quarter. Ravens junior Shavon Shields, plagued by foul trouble all game, converted a three-point play to give O-Northwest a two-point lead.
Lawrence's KJ Pritchard missed a short jumper on the next possession, and Shields added another free throw for a 41-38 lead. Pritchard hit his next short shot, and the Lions (7-11) fouled Cauley in transition with seven seconds left.
Lewis then called a timeout.
Cauley missed both freebies, but the scramble for the rebound took precious seconds off the clock and effectively messed up Lewis' original playcall. Pritchard dribbled the length of the floor, flipping the ball off to Willoughby with seconds remaining.
Willoughby had his feet set, but the shot just fell short.
"You have to try to take the positives out of it, and that's not always real easy when you have the opportunity to get the win and you feel like you should've got it," Lewis said.
Cauley finished with 22 points and 11 rebounds, but had just eight points and four rebounds after halftime. No one else scored more than six for the Ravens.
Pritchard led the Lions with 16 points on 6-of-15 shooting.
Despite the loss, the Lions' gameplan seemed to work. It might work again if the Lions meet the Ravens in substate play.
The Lions travel to Leavenworth on Tuesday.
Box score
Olathe Northwest 41, Lawrence High boys 40
OLATHE NORTHWEST (41)
Davis Reid 1-4 0-0 2, Trey Bales 0-6 0-0 0, Austin Fisher 2-5 0-0 5, Shavon Shields 2-7 2-3 6, Willie Cauley 7-11 8-11 22, Andrew Trotter 2-2 0-1 4, Sam Power 1-1 0-0 2, Graham Dobbins 0-1 0-0 0. Totals 15-37 8-15 41.
LAWRENCE (40)
KJ Pritchard 6-15 1-2 16, Shane Willoughby 0-1 0-0 0, Anthony Buffalomeat 3-9 0-0 6, Logan Henrichs 5-7 0-2 14, Jake Johnson 0-2 0-0 0, Trent Edwards 0-0 0-0 0, Derby Miller 0-4 0-0 0, Ross Johnson 0-0 0-0 0, Brad Strauss 2-4 0-0 4. Totals 16-42 1-4 40.
Olathe Northwest 12 13 7 9 — 41
Lawrence 11 11 11 7 — 40
Three-point goals: Olathe Northwest 1-14 (Fisher); Lawrence 7-20 (Henrichs 4, Pritchard 3). Shooting: Olathe Northwest 15-37 (40.6 percent); Lawrence 15-37 (38.1 percent). Turnovers: Olathe Northwest 10, Lawrence 13.
Copyright 2018 The Lawrence Journal-World. All rights reserved. This material may not be published, broadcast, rewritten or redistributed. We strive to uphold our values for every story published.