Photo Gallery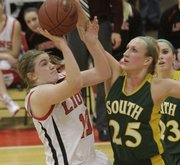 Lawrence High girls vs. Shawnee Mission South
In more than a couple games this season, Lawrence High's girls basketball team hasn't been fully engaged from the opening tip. Slow starts have often put the Lions behind.
Sure enough, the Lions found themselves trailing at the end of the first quarter on Tuesday against Shawnee Mission South.
But this time, coach Nick Wood looked out on the court and saw a team that desperately wanted a win. And the Lions earned it, squeaking out a 39-34 victory at LHS.
"They dug down, dug deep, competed and got stops defensively when we needed to," Wood said. "We're really locking in and getting stops when the game is on the line."
Sophomore Krista Costa was a big part of those stops. With just over two minutes remaining, she took a charge just outside the right block to give the Lions possession.
Wood then matched Costa up with South's Taylor McDowell, who had hit four three-pointers already. Costa stayed within arm's length of McDowell and didn't allow her to get a look when the Raiders (6-8) were down three in the final minute.
Ever-reliable senior Emily Peterson hit two free throws to give the Lions (7-10) their five-point margin of victory, the biggest lead by either team.
"That's who we want up there," Wood said. "All year she's hit big free throws for us, and she continues to do that."
Peterson closed the game, but Wood can thank a revamped starting lineup for bringing energy in the opening quarter.
Senior Rachel Kelly, who finished with 17 points, started after recovering from a head injury. Costa and junior Christina Haswood also made rare starts.So even without senior Kristen Bell, sitting out with a mild concussion, the Lions were able to put together an entire game.
"I think we're feeling good," Wood said. "We're still a work in progress. That's just who we are. We're continuing to get better every day."
The Lions play Olathe Northwest at home on Friday. It is also Senior Night.
Box score
Lawrence High girls 39, Shawnee Mission South 34
SM SOUTH (34)
Mariah Marusak 0-8 0-0 0, Iare Bingaman 1-1 0-0 2, Taylor McDowell 4-11 0-0 12, Emmy Allen 6-14 6-6 18, Katie Erlach 1-10 0-0 2, Taylor Obersteadt 0-1 0-0 0, Allison Hines 0-3 0-0 0, Hayden Roberts 0-1 0-0 0. Totals 12-49 6-6 34.
LAWRENCE (39)
Emily Peterson 4-11 3-4 12, Rachel Kelly 6-13 0-0 17, Tamiya Green 1-7 2-2 4, Krista Costa 1-1 0-0 3, Christina Haswood 1-6 0-0 2, Natalie Wilkins 0-2 0-0 0, Brianna Anglin 0-3 1-2 1, Brittany Ray 0-2 0-0 0, Sami Johnson 0-0 0-0 0. Totals 13-45 6-8 39.
SM South 10 6 12 6 — 34
Lawrence 8 11 9 11 — 39
Three-point goals: SM South 4-18 (McDowell 4); Lawrence 6-17 (Kelly 5, Peterson). Shooting: SM South 12-49 (24.5 percent); Lawrence 13-45 (28.9 percent). Turnovers: SM South 7, Lawrence 11.
Copyright 2018 The Lawrence Journal-World. All rights reserved. This material may not be published, broadcast, rewritten or redistributed. We strive to uphold our values for every story published.