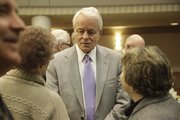 Kansas newspaper publishers say they are beginning to see signs of economic recovery in their cities.
In Lawrence for the presentation of the William Allen White Foundation's national citation to journalist John S. Carroll, a few took time to talk about how the recession is — and isn't — affecting their communities.
"We're starting to come back," said Patrick Lowry, editor and publisher of the Hays Daily News. "We have a healthy manufacturing base that definitely took a hit."
A battery manufacturer in the city, he said, is now back to full strength, operating with three shifts rather than one.
David Seaton is the president of a media operation that oversees newspapers in the southeastern Kansas towns of Winfield and Arkansas City and a newspaper in Oklahoma.
The towns are hurting, but haven't seen any major layoffs or closures in the city limits, he said.
"We're heavily affected by the aircraft manufacturing business in Wichita," which has taken a big blow, he said.
John Montgomery, publisher of The Hutchinson News, said the economy in the medium-sized central Kansas town is probably "better off than most places."
Siemens just opened a plant in December to manufacture parts for wind turbines that brought 400 new jobs to the local economy.
The community has been somewhat insulated from the layoffs and whims in the housing market that have faced the rest of the nation. Unemployment in the community is comparatively low, about 5 percent, he said.
"We never had a real estate boom, so we never had a real estate bust," he said.
Wind energy is also helping the economy in Ottawa, said Jeanny Sharp, editor and publisher of The Ottawa Herald.
A steel company recently announced an expansion, adding 300 new jobs to the economy there. The company will produce an interlocking wind turbine, she said.
Still, Sharp said, 50 percent of the city's population commutes to places like Lawrence, Topeka and the Kansas City area.
"Some of those commuters were the ones that were hit the hardest," she said, as companies like Sprint absorbed massive job cuts.
Copyright 2018 The Lawrence Journal-World. All rights reserved. This material may not be published, broadcast, rewritten or redistributed. We strive to uphold our values for every story published.