Photo Gallery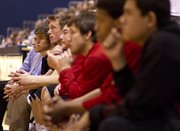 LHS boys basketball vs. Olathe East
Olathe — The quotation "confidence is contagious" adorned the Lawrence High boys basketball team's scouting report for Olathe East.
Lawrence coach Mike Lewis explained the significance of it, then paused for a couple seconds, perhaps recalling the finer details of his team's 63-48 loss on the road on Friday.
"The lack of confidence can also be contagious," Lewis said.
Junior KJ Pritchard's first shot of the game hit off the top of the backboard. Things got better from there, but not much — he finished 6-of-24 for the field, hitting just two of his first 20 shots.
Lewis admitted that Pritchard's play usually creates momentum, and the fact that his shot wasn't falling sort of transferred to the rest of the team.
"But we had plenty of guys who could score," Lewis said.
So did the Hawks (13-2). They hit four three-pointers in the first quarter, racing out to a 16-7 lead. They didn't relent in the second quarter either, hitting two more and gaining a 34-16 lead at halftime.
The Lions (6-10) played their standard 2-3 zone. The defense often broke down after the Hawks made a couple passes within the zone. Lewis said his team needed to do a better job hustling to close out on open shooters.
But Lewis knew the Hawks could shoot. He said they average nine or 10 three-pointers a game. They hit 10 from behind the arc on Friday, three coming from Cole Cook and two apiece from Logan Souder and Tyler Kalinoski.
So the fact the Hawks shot the ball well didn't really bother Lewis. He pointed to the little things, including missed boxouts, as the reason that the Lions fell into a hole they couldn't crawl out.
"Against a team like Olathe East, you just have to be solid with all the little things and not let any freebies go by," Lewis said.
Pritchard scored the last eight for the Lions, finishing with 16 points. Logan Henrichs scored 13 and grabbed seven rebounds, and junior Anthony Buffalomeat added 12.
After a 1-1 week on the road, Lewis is excited to play two games at home next week.
The Lions play Shawnee Mission South on Tuesday.
Box score
Olathe East boys 63, Lawrence High 48
LAWRENCE (48)
KJ Pritchard 6-24 1-1 16, Shane Willoughby 0-1 0-0 0, Anthony Buffalomeat 3-10 5-6 12, Logan Henrichs 4-8 2-2 13, Jake Johnson 0-1 2-2 2, Garrett Wagner 0-0 2-2 2, Derby Miller 1-2 1-1 3, Brad Strauss 0-0 0-0 0, Ross Johnson 0-0 0-0 0, Bryce Montes de Oca 0-0 0-0 0, Trent Edwards 0-0 0-0 0. Totals 14-46 13-14 48.
OLATHE EAST (63)
Austin Brown 4-5 1-1 9, Blaine Miller 3-6 2-2 9, Logan Souder 2-5 0-0 6, Cole Cook 4-9 0-1 11, Tyler Kalinowski 3-9 4-4 12, Kyle Smith 2-8 0-0 6, Dawson Gurley 2-2 2-2 8, Ezra Talbert 0-1 0-0 0, Johah Jacobsen 1-1 0-0 2, Taren Robinson 0-1 0-0 0. Totals 21-46 9-10 63.
Lawrence 7 9 13 19 — 48
Olathe East 16 18 14 17 — 63
Three-point goals: Lawrence 7-22 (Pritchard 3, Henrichs 3, Buffalomeat); Olathe East 10-23 (Cook 3, Kalinowski 2, Smith 2, Souder 2). Shooting: Lawrence 14-46 (30.4 percent); Olathe East 21-46 (45.7 percent) Turnovers: Lawrence 10, Olathe East 9.
Copyright 2018 The Lawrence Journal-World. All rights reserved. This material may not be published, broadcast, rewritten or redistributed. We strive to uphold our values for every story published.