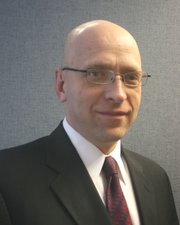 A City Hall staff attorney and a former prosecutor will become Lawrence's next municipal court judge.
Scott Miller, a staff attorney for the city's legal department, will take over for longtime Judge Randy McGrath, who is retiring in March.
"I'm honored to be appointed to the position," Miller said. "I'll do my best to uphold the public's trust."
City Manager David Corliss announced the selection Friday. "Mr. Miller will bring a strong legal background to this position," he said. "I'm very pleased with this selection."
As municipal court judge, Miller will preside over criminal cases such as DUIs and other nonfelony offenses, as well as traffic, zoning and other city code violations.
Miller, 41, has been an attorney with the city since 2005 and has been responsible for crafting many of the city's newer criminal ordinances and codes. Before coming to Lawrence, he served as a prosecutor for the city of Overland Park and as an assistant county attorney in Ellis County. He has his undergraduate degree from Kansas State University and his law degree from Kansas University.
Miller said that because of his previous position with the city, he may have to recuse himself from some cases. He said he will step aside from any cases that he had an involvement in prior to being appointed to the bench. He also said that if anyone were to challenge the constitutionality of a city ordinance that he helped craft, he would step aside.
"But I think the experience I've had with the city of Lawrence will end up being invaluable," Miller said.
Corliss said the city interviewed several candidates. Corliss asked Douglas County District Chief Judge Robert Fairchild and Charles Briscoe, director of Douglas County Legal Aid, to participate in the final interviews.
Copyright 2018 The Lawrence Journal-World. All rights reserved. This material may not be published, broadcast, rewritten or redistributed. We strive to uphold our values for every story published.