Photo Gallery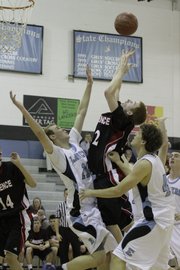 Lawrence High boys vs. Shawnee Mission East
Prairie Village — It isn't surprising that junior KJ Pritchard made big plays to help the Lawrence High boys basketball team squeak out a 61-58 overtime road victory at Shawnee Mission East on Tuesday.
He's been hitting tough shots in close games all season.
To even get to overtime, though, the Lions can thank coach Mike Lewis and his impeccable timing.
With six seconds to go in the fourth quarter, LHS junior Anthony Buffalomeat pulled down an East miss and started to push the ball upcourt. The ball was poked loose by an East defender. The Lancers' Vance Wentz scooped up the ball and scored what appeared to be the game-winning layup.
But a whistle sounded just as Wentz's shot went up. Lewis had realized Buffalomeat was scrambling and called a timeout before the Lions lost possession.
"I had to get up and get moving out of my box and start to get the official's attention," Lewis said. "You just have to scream at them."
The referee turned his head to acknowledge the timeout call, making him unable to see that Buffalomeat had lost possession in the next moment. The three referees met with Lewis and East coach Shawn Hair and informed them that the Lions would get the timeout.
"It probably would have made coach Hair feel better if (the referee) would've had eyes in the back of his head," Lewis said.
With a minute to go in overtime, the Lions were trailing 58-57. Junior KJ Pritchard caught the ball in the corner, pump faked, eyed down his defender and skied for the three-pointer. The ball barely hit the net as it fell through.
"We know he can shoot it," Lewis said. "He keeps hitting big shots like that, and I think that kind of fuels his confidence."
Wentz missed a runner on the other end, and Pritchard's free throw and subsequent steal of the final inbounds pass cemented the three-point victory. He finished with 22 points.
Pritchard was visibly frustrated by the Lancers' box-and-one defense early in the game. East junior Alex Schoegler was in Pritchard's chest for the first several possessions, forcing Pritchard to take contested shots.
But Schoegler picked up three early fouls, and the Lancers switched into a 3-2 zone for the rest of the game.
Lewis said Pritchard is improving at keeping his composure against tight defense.
"He's skilled, and as long as he can keep his head in tight games, he can help us and he will help us," Lewis said.
The Lancers (4-11) held a 50-38 lead in the fourth quarter before the Lions (6-9) went on a 14-2 run to tie it. East failed to convert several free-throw opportunities late, but LHS also hit open shots to close the deficit.
Lewis wished his team would have competed hard in certain portions of the game, but as the Lions made their way to their locker room, he applauded them for keeping things interesting.
"When you find a way to win when you're not playing so well and things aren't going your way, that's a sign of some good things to come," Lewis said.
The Lions travel to Olathe East on Friday.
Box score
Lawrence 61, Shawnee Mission East 58
LAWRENCE (61)
KJ Pritchard 7-12 5-9 22, Shane Willoughby 2-2 3-4 9, Anthony Buffalomeat 8-12 2-4 19, Logan Henrichs 3-10 3-5 9, Jake Johnson 0-1 0-0 0, Garrett Wagner 0-0 2-4 2, Brad Strauss 0-0 0-0 0, Derby Miller 0-0 0-0 0, Ross Johnson 0-0 0-0 0, Trent Edwards 0-0 0-0 0. Totals 20-37 15-26 61.
SHAWNEE MISSION EAST (58)
Zach Schneider 6-11 5-6 17, Alex Schoegler 0-0 0-0 0, Vance Wentz 4-15 4-4 14, Andy Hiatt 2-2 2-4 6, Chase Hanna 3-7 0-0 9, George Brophy 1-2 1-2 3, Robby Moriarty 0-2 1-2 1, Zach Nass 1-1 1-1 4, Sean Cameron 0-0 0-0 0, Billy Sutherland 2-3 0-0 4. Totals 19-43 14-19 58.
Lawrence 4 15 17 16 9 — 61
Shawnee Mission East 14 9 22 7 6 — 58
Three-point goals: Lawrence 6-15 (Pritchard 3, Willoughby 2, Buffalomeat); Shawnee Mission East 5-15 (Hanna 3, Wentz 2). Shooting: Lawrence 20-37 (54 percent); Shawnee Mission East 19-43 (44.2 percent). Turnovers: Lawrence 14, Shawnee Mission East 13.
Copyright 2018 The Lawrence Journal-World. All rights reserved. This material may not be published, broadcast, rewritten or redistributed. We strive to uphold our values for every story published.