Photo Gallery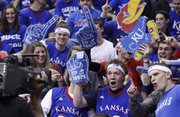 KU vs. Missouri
Press Conferences & Post-Game Interviews
KU coach Bill Self
Kansas coach Bill Self talks to reporters following the Jayhawks' 103-86 victory over Missouri on Feb. 7, 2011.
Giving up 100 points in a college basketball game is never easy to swallow.
Surrendering that many points to an archrival makes life even tougher.
And watching someone crack the century mark when you pride yourself on defense can take a team to the brink of insanity.
Such was life for Missouri on Monday night, which lost to No. 2 Kansas University, 103-86, at Allen Fieldhouse, the Tigers' 12th-straight setback in Lawrence.
"You gotta give credit to Kansas, they're a real good team," said Mizzou junior Laurence Bowers, who led the Tigers with 19 points. "Obviously, we all know that. But I don't think we played the best defense that we could've played. We gave up 103 points, and that's very unlike us."
Missouri (18-6 overall, 4-5 Big 12) entered Monday's Border War battle with an 83.3 points-against average per game. The fact that the Jayhawks (23-1, 8-1) blew that mark out of the water was bad enough. The way they did it caused some head-scratching.
"I thought they played a whale of a second half," Missouri coach Mike Anderson said of Kansas. "They went on one of those spurts where they really just made a lot of threes and just kind of got the game expanded to their benefit."
Kansas had plenty to do with MU's shortcomings. The Jayhawks shot 67 percent from the floor in the second half — 61 percent for the game — including 6-of-10 shooting from three-point range in the second 20 minutes.
"Kansas is a team that can score," Anderson said. "And they really hit some tough shots. They hit a lot of those threes that kind of broke your back."
Added MU guard Phil Pressey (17 points): "I've been watching film on them for the past couple of days, and those shots they were hitting kind of surprised me. I mean, I know he (KU senior Mario Little, 17 points) can shoot, and he's a D-I basketball player, but it just kind of surprised us. He played well. Seven-for-nine, that's a good game for anybody in this conference."
Although KU's deft touch from distance crippled the Tigers, Anderson said the difference in the game was the way KU changed its attack in the second half.
"They really kind of took the fight to us," Anderson said. "I think they established that they were going inside."
That was the idea, said KU coach Bill Self, who actually praised the Tigers' first-half defense.
"To be honest with you, the way they guarded us in the first half was perfect," Self said. "They kept us on the perimeter and didn't allow us to throw it in to our bigs."
By game's end, three MU players had fouled out, and Kansas had rolled up its highest point total against Missouri since drubbing the Tigers, 105-73, in January of 2002. What's more, KU's 57 points in the second half were the most given up by Mizzou this season. The previous high came when Northern Illinois scored 44 in a 97-61 loss at Missouri two days after Christmas.
"We scored enough points to win the game," Pressey said. "I just thought on the defensive end it was a poor job by us, and we're gonna have to get better at it."
Added Anderson: "I don't know if anybody would say a lot of defense was played, but a lot of scoring took place."
Copyright 2018 The Lawrence Journal-World. All rights reserved. This material may not be published, broadcast, rewritten or redistributed. We strive to uphold our values for every story published.