Photo Gallery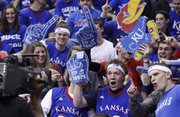 KU vs. Missouri
Press Conferences & Post-Game Interviews
KU coach Bill Self
Kansas coach Bill Self talks to reporters following the Jayhawks' 103-86 victory over Missouri on Feb. 7, 2011.
At the four-minute media timeout, Kansas University assistant coach Danny Manning looked down the bench and could see the frustration on Travis Releford's face.
The KU sophomore hadn't gotten in yet, and with teammate Mario Little playing so well, it didn't appear likely that he would get much of an opportunity Monday night.
Manning made his way to Releford to say something: Just keep your head, Travis. You're going to get your chance.
The coach's words turned out to be prophetic.
Shortly after the timeout, Little picked up two fouls in 20 seconds, giving him three personals.
KU coach Bill Self sent in Releford with 2:07 left in the first half; it was the start of a 16-minute, 10-point performance from Releford in KU's 103-86 victory over Missouri.
"Once I got in," Releford said, "I just did what I had to do."
The sophomore's confidence soared after KU's final possession of the first half, when he faked a three to get a defender in the air, took a few dribbles, then knocked down a 15-foot baseline shot just before the buzzer.
Overall, Releford went 4-for-5 from the floor and 2-for-2 from three-point range.
Coming into Monday's game, the small forward had played just 13 combined minutes in eight conference games after spraining his ankle on Jan. 9 against Michigan.
"You guys saw it. He's not healthy. He's still gimping around a little bit," Self said. "That ankle sprain's been going on for a month now. But one thing about Travis, he's confident.
"He was great. He made some big-time plays for us."
Releford admitted after the game that he still isn't 100 percent.
He explained that during the Michigan game, his ankle actually popped out of place, then snapped back into place by the time the trainers made it to him.
The ankle swelled up for a couple of weeks, limiting him so he couldn't do much. Now, he's rehabbing it, icing it and trying to get some motion back into it to regain his explosiveness.
"I'll be fine before the season's over with for sure," Releford said. "It's just day-by-day."
Releford's injury was most evident in pregame warmups, when he had to lay in a few alley-oops because his leaping ability wasn't there.
He's one of three Jayhawks — along with Tyrel Reed and Josh Selby — to have ankle or foot injuries.
"We had a joke about it: Every first of the month, they're handing out boots to us," Releford said with a laugh.
The bum ankle hasn't kept him from shooting.
Releford said he'd been coming in early to get up more outside shots so he could be sure to make those attempts in a game.
"It's very frustrating, coming off from the beginning of the year when I started out so well, then I went down with the injury," Releford said. "I'm just trying to do whatever to help my team play better."
Copyright 2018 The Lawrence Journal-World. All rights reserved. This material may not be published, broadcast, rewritten or redistributed. We strive to uphold our values for every story published.