Photo Gallery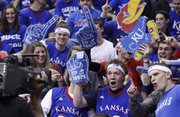 KU vs. Missouri
Press Conferences & Post-Game Interviews
KU coach Bill Self
Kansas coach Bill Self talks to reporters following the Jayhawks' 103-86 victory over Missouri on Feb. 7, 2011.
Selby on mend
Kansas University freshman guard Josh Selby, who has a stress reaction in his right foot, missed his second straight game.
"They tell me (that on) Thursday, he'll be good to go," KU coach Bill Self said of the combo guard from Baltimore.
Earlier on Monday's Big 12 teleconference, Self discussed Selby's injury in detail.
"He thought he had a sore foot. We are talking about minor stuff going into our Texas Tech game (last Tuesday)," Self said.
"I believe he was going for one of the loose balls on the sideline. It became more sore after that, not to the point where we thought he was injured by any stretch. He talked to the trainers. They looked at it, did an X-ray and MRI. Everything came out negative, but there's a hot spot so to speak which means he could play on it, but if he were to roll it, there could be a chance there could become a line or a stress fracture that could put him out a substantial amount of time, three, four, five weeks."
Wild stuff
Brady Morningstar's 38 minutes without a turnover were the most by a Jayhawk since Ryan Robertson played 42 minutes without a turnover against Oklahoma State on Feb. 22, 1999. ... MU's 86 points were the most by a KU opponent since Syracuse defeated KU, 89-81, on Nov. 25, 2008. The points were most by a conference opponent since a 100-90 KU win over Baylor on Feb. 9, 2008. ... MU's 42 first-half points were the most in an opening half by a KU opponent since Oklahoma State scored 45 on Feb. 27 of last season. ... MU's 51.7 percent field-goal percentage was the highest by a KU opponent this season. ... The Tigers are the third KU opponent in the last 134 games to shoot better than 50 percent.
Stats, facts
KU improved to 23-1 overall. The Jayhawks have their 22nd consecutive 23-win season, dating to 1989-90. ... KU is 8-1 in the Big 12 ... The Jayhawks are 2-1 against Top-25 teams. ... KU has won four in a row versus Missouri. The Jayhawks lead the all-time series, 170-94. … KU has won 12 straight over MU in Allen. ... KU is 12-1 at home this season, 653-107 all-time in Allen Fieldhouse and 125-7 in the building under Self. ... Self is 225-44 while at KU, 432-149 all-time and 16-3 against Missouri, including 13-3 while at Kansas. .. KU is 2,026-797 all-time. ... KU used the starting lineup of Tyshawn Taylor, Brady Morningstar, Tyrel Reed, Marcus Morris and Markieff Morris for the second straight game and ninth time this season. ... KU scored 100 points in a conference game for the first time since scoring 109 against Texas Tech on March 3, 2008. ... KU's 103 points against Missouri were also the most in the KU-MU series since the Jayhawks defeated the Tigers, 105-73 in Lawrence on Jan. 28, 2002. It was also the most combined points in the series since a 96-94 Missouri win on Feb. 4, 1997. ... Mario Little scored a career-high 17 points, on 7-of-9 shooting. Along with setting career highs in points, he also had career bests in field goals (seven), three-point field goals (three) and three-point field goals attempted (three). He also tied his career high in field goals attempted (nine). He had 12 points the first half, passing his season high (11 vs. Texas A&M; Corpus Christi) in his first nine minutes. ... Marcus Morris had a game-high 22, marking his seventh game scoring 20-plus points this season and 12th time in his career. ... Markieff Morris scored 16 points, and matched a season high with three blocked shots (also had three against Iowa State and Colorado State). Morris moved into sole possession of 20th place in career blocked shots at KU with 87 in his career, passing Herb Nobles. ... Morningstar recorded seven assists, which marked his second-highest total of the season and career-best in a conference game. ... Reed's two blocks set a career high. Reed also hit two three-point field goals, giving him 152 in his career, moving past Rex Walters for 11th all-time at KU. ... Taylor has 806 career points. ... KU has made 24 of 43 threes over the past two games (55.8 percent). ... Missouri's 21 rebounds were the fewest by a KU opponent since Coppin State had 21 boards on Nov. 28, 2008.
Copyright 2018 The Lawrence Journal-World. All rights reserved. This material may not be published, broadcast, rewritten or redistributed. We strive to uphold our values for every story published.