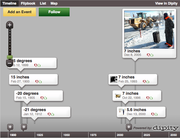 This interactive timeline displays the top five single-day snow totals in Lawrence history, the top five coldest days in Lawrence history and the top five single-day snow totals in Lawrence since 1991.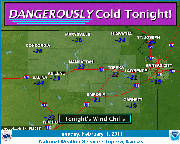 Send us your photos!
Taking pictures of Tuesday's storm? Send them our way and we'll feature them on LJWorld.com, Facebook and Twitter.
Log in to LJWorld.com with your free user account (or create one here) and start uploading!
Photo Gallery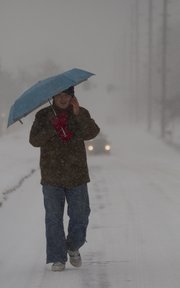 Jan. 31 - Feb. 1 winter storm
Photo Gallery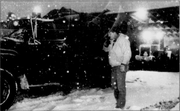 Biggest snow storms of the past 20 years
In the past 20 years, five storms have dropped 5.6 or more inches of snow on Lawrence. With the Feb. 1, 2011 storm expected to drop 9 to 13 inches of snow on Lawrence, it would easily be the most snowfall Lawrence has seen in the last 20 years, and would also approach the top five all time.
Kansas weather updates, via Twitter
The wind chill advisory for Douglas County has been allowed to expire. Check back with LJWorld.com for any severe weather updates.
6:06 a.m. update
Douglas County remains under a wind chill advisory until 10 a.m. Thursday. The temperature as of 6 a.m. was -13 degrees with a wind chill of -25 degrees.
Expect wind chills from -15 to -23 through the morning hours.
In this weather, exposed skin can suffer from frostbite in a short amount of time. Dress adequately by wearing layers, a hat and gloves to protect yourself from the cold.
9:20 p.m. update
Lawrence continues to recover from the winter storms that rolled through the area the past few days.
With most major streets cleared, city crews began working Wednesday afternoon to treat residential streets in Lawrence. Megan Gilliland, city communications manager, said crews would continue to work their way through local neighborhoods overnight. Contractors have also been brought in to help clear snow accumulation from downtown streets. That process will begin around 8 a.m. Thursday morning.
The wind chill advisory issued by the National Weather Service went into effect at 9 p.m. Wednesday and will remain in effect until 10 a.m. Thursday. Temperatures are currently below zero and aren't expected to get any higher overnight. With wind chill Wednesday, double-digit negative temperatures are likely.
5:39 p.m. update
Lawrence officials were praising residents who heeded their call to stay home during the recent winter storms. Because of that, crews were able to better, and more quickly, clear city streets, Brenna Hawley reports.
The next challenge is where will the city put all the snow it's taken off of certain city streets where it can't be plowed aside — specifically in downtown. Chuck Soules, public works director, said the city was scrambling to find a place for all of it. Some of it will likely end up in a yard near Johnny's Tavern in North Lawrence, plus at the city's street maintenance yard in east Lawrence.
With the snow cleared from most places, however, the T will be able to operate a normal schedule tomorrow.
5:08 p.m. update
KDOT is reporting improved highway conditions in Douglas County. Here are highway conditions as of 2:30 p.m.:
Interstate 70 — Wet/Slush
Kansas Highway 10 — Spots Snowpacked/Ice
Kansas Highway 32 — Wet/Slush
U.S. Highway 24 — Spots Snowpacked/Ice
U.S. Highway 40 — Spots Snowpacked/Ice
U.S. Highway 56 — Spots Snowpacked/Ice
U.S. Highway 59 — Spots Snowpacked/Ice
4 p.m. update
Lawrence's sidewalk snow ordinance will go into effect at 5 p.m. Friday for this storm, but inspectors won't start looking at complaint locations until 8 a.m. Monday.
Normally the ordinance goes into effect 48 hours after a snowstorm ends, but because of the wind and freezing temperatures, the city pushed back the start of the ordinance. City spokeswoman Megan Gilliland said the city ordinance doesn't have a provision that specifically allows for an extension of the 48-hour time period, but she said the city believes it has the discretion to extend the time period if weather conditions and other factors warrant it.
Property owners are required to clear sidewalks adjacent to their property.
Complaints about sidewalks not cleared by the 5 p.m. deadline can be called in to 832-7700 or submitted online at www.lawrenceks.org/pds/code_violation.
11:43 a.m. update
We've heard multiple reports that city crews have started plowing residential streets in Lawrence.
If you see a plow, send us a picture!
11:15 a.m. update
The National Weather Service in Topeka reports that Lawrence received 8 inches of snow on Tuesday. The last time the city received that much snow in a single day was Feb. 8, 1980.
In February 1993, Lawrence received 8 inches during a two-day period.
11:04 a.m. update
How does this storm stack up against others? We created an interactive timeline with a few statistics:
Top five single-day snow totals in Lawrence history
Top five coldest days in Lawrence history
Top five single-day snow totals in Lawrence since 1991
Additionally, we've received some great user-submitted photos from Douglas County residents in the past 24 hours. You can view their photos in our gallery, and submit your photos online here.
We're also adding all of the user-submitted photos to our Facebook page.
7:30 a.m. update
The City of Lawrence announced that transit service, the T, will only operate the paratransit service for medical necessity/dialysis. Both KU on Wheels and Park and Ride will not operate Wednesday.
Lawrence street maintenance crews have finished plowing "Priority 1" streets and are currently plowing secondary streets, according to a press release from the city. Crews expect to begin plowing residential streets Wednesday afternoon.
5:15 a.m. update
Though the worst of the snowfall is over, Douglas County residents now must deal with dangerous wind chills. Wednesday's high will be 11 degrees, but wind chill values are expected to be between -6 and -16.
The current wind chill advisory expires at noon Thursday, but a second wind chill advisory has been issues from 9 p.m. Wednesday until 10 a.m. Thursday. During that time, wind chills could dip as low as -21 degrees in Lawrence.
If you have to travel today, the Kansas Department of Transportation reports that as of 4:30 a.m. most highways in Douglas County were still partly snowpacked:
Interstate 70 — Mostly snowpacked/ice
Kansas Highway 10 — Partly snowpacked/ice
Kansas Highway 32 — Partly snowpacked/ice
U.S. Highway 24 — Partly snowpacked/ice
U.S. Highway 40 — Partly snowpacked/ice
U.S. Highway 56 — Partly snowpacked/ice
U.S. Highway 59 — Partly snowpacked/ice
12 a.m. Wednesday update
A major winter storm walloped Lawrence and most of eastern Kansas on Tuesday with several inches of snow and cold temperatures.
And local and state officials discouraged travel as high winds and blowing snow made it difficult for crews to clear streets and roads. Douglas County was under a blizzard warning that expired late Tuesday. A wind chill advisory remains in effect until noon today.
"If people don't have to go to work, it would probably be better if they just stay home," said Chuck Soules, Lawrence's public works director.
Much of Lawrence was shut down Tuesday with Kansas University's campus and Lawrence public schools closed. City and county offices, banks and other businesses, even Sears, 2727 Iowa, closed early Tuesday as the weather worsened.
KU's Lawrence and Edwards campuses will be closed again today. It's the first time since January 2002 that KU has been closed consecutive days for weather.
Owner Jerry Neverve closed his Red Lyon Tavern, 944 Mass., early, meaning the downtown bar was not open for the KU and Texas Tech basketball game Tuesday night. He said that was indicative of how bad the weather was.
"The wind's blowing. It's cold," Neverve said. "It's no reason to be out."
Other places kept their doors open as residents and KU students apparently needed something to do.
"They can't get to work or school, but they can sure make it to the tavern," said Rick Renfro, owner of Johnny's Tavern in North Lawrence and Johnny's West, which he planned to keep open for the game Tuesday night.
Downtown Lawrence was quiet Tuesday except for a few people and those who had to do their best at shoveling sidewalks.
"We've got to make sure it's cleared," said Chris Miller, who wears many hats at Liberty Hall, 644 Mass., including as a maintenance man.
Road crews had been busy since Sunday night treating streets and roads. The plowing started Tuesday. But city leaders admitted that blowing snow and cold temperatures would make it difficult to get streets cleared.
Soules said crews would concentrate on major streets and likely wouldn't get to plowing residential streets until Thursday.
No major accidents were reported Tuesday, but several drivers got stuck, especially on hills in Lawrence.
The National Weather Service predicted 10 to 13 inches would have fallen in the Lawrence area by this morning.
Michael Couch, a NWS observing program leader in Topeka, said the bitter cold and low wind chills will stick around into Thursday. Today's high was predicted to be 10 with a wind child around 18 below zero.
Thursday is supposed to be below freezing as well with a wind chill 20 below zero in the morning. The break in the cold could come Saturday with temperatures in the lower 30s.
"It's going to be dangerously cold," Couch said. "Don't be out if you don't have to."
8:37 p.m. Tuesday update
The National Weather Service in Topeka has canceled the blizzard warning for Douglas, Jefferson, Shawnee and Franklin counties.
In it's place, the weather service issued a wind chill advisory, in effect until noon Wednesday.
The blizzard warning continues for area to the east, including Johnson and Leavenworth counties, though it too is expected to end soon and be replaced with a wind chill advisory.
8:10 p.m. Tuesday update
Lawrence crews are continuing plowing operations overnight and hope to have all priority one and two routes in Lawrence treated by morning.
For Tuesday night, though, the city has just one message: Stay inside.
"At this time, I want to strongly encourage everyone to stay home and do not get out unless it is an emergency," Gilliland said. "Our street crews' priority is to clear the streets; vehicles that get stuck just create another impediment and we want people to get home and stay home where they are safe."
At that point, the city will move into residential neighborhoods. According to a statement from city communications manager Megan Gilliland, the city will call on outside contractors and other city departments on Wednesday to help with clearing operations. The city expects to work on downtown and residential streets at some point on Wednesday.
Also, the city said garbage collection would go on as normal on Wednesday, though delays are possible. Crews may have to bypass some areas, but Gilliland said crews would visit those areas on Thursday.
Customers can call in missed areas to (785) 832-3032.
Copyright 2017 The Lawrence Journal-World. All rights reserved. This material may not be published, broadcast, rewritten or redistributed. We strive to uphold our values for every story published.