Photo Gallery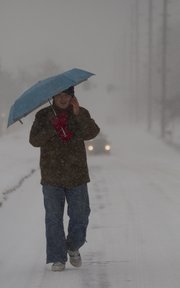 Jan. 31 - Feb. 1 winter storm
Photo Gallery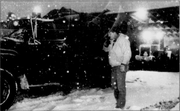 Biggest snow storms of the past 20 years
In the past 20 years, five storms have dropped 5.6 or more inches of snow on Lawrence. With the Feb. 1, 2011 storm expected to drop 9 to 13 inches of snow on Lawrence, it would easily be the most snowfall Lawrence has seen in the last 20 years, and would also approach the top five all time.
On Tuesday, Lawrence received the most snow in a single day since 1980.
But city officials say that streets this week haven't been as hard to clear as they were after the Christmas 2009 storm.
"What was really helpful was all those citizens who did stay home and off the roads," said Chuck Soules, public works director.
Lawrence recorded 8 inches of snow Tuesday, the most in one day since Feb. 8, 1980. In February 1993, it snowed that much over two days, according to the National Weather Service in Topeka.
Soules said the city had workers on call and prepared to go out to deal with this storm, and that the amount of overtime logged by workers probably wouldn't be as extensive as the Christmas 2009 storm. That storm dumped 6.2 inches on Lawrence.
Because fewer people left their homes during this storm, city crews spent less time dealing with stranded motorists.
Soules said the city hopes to finish plowing all residential streets by Thursday morning. Snow from the middle of Massachusetts Street and the center of cul-de-sacs will be moved out on Thursday.
Where to put it is something of a problem.
"We're all scrambling to look for areas," Soules said.
The city owns land around town to deposit snow, including the street maintenance yard at 11th and Haskell and an area behind Johnny's Tavern, 401 N. Second St.
Even if the city needs to do more plowing and road treatment, salt and sand should be in plentiful supply.
Public transit administrator Bob Nugent said he expects buses to be running normally Thursday, starting at the usual time, 6 a.m.
Despite the sunshine on Wednesday, Soules said it was highly like that streets could get icy overnight.
"People still need to be careful," he said.
Copyright 2017 The Lawrence Journal-World. All rights reserved. This material may not be published, broadcast, rewritten or redistributed. We strive to uphold our values for every story published.