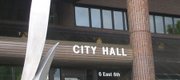 Subscribe to the email edition of Town Talk and we'll deliver you the latest city news and notes every weekday at noon.
• I heard back from an Old Navy spokeswoman recently, and the retailer is not yet ready to announce the date that its Lawrence store will close. I'll keep an ear out for any news on that front.
I'll also be watching for any signs that Old Navy may be seeking a new location in town, but I'm not picking up on any of those. I chatted with the commercial real estate agent who is marketing the vacant Borders property in downtown Lawrence. Commercial real estate agents generally don't mention by name the companies they are working with, but I got no indication that Old Navy had shown any interest in the building.
"We're getting interest from specialty grocery stores and fitness users and a whole range of tenants," said Eric Gonsher, a commercial real estate agent with The R.H. Johnson Company. "We continue to have a pretty steady stream of interested parties, but the property is still available."
According to the listing on the company's Web site, the 20,000-square-foot Border's location is available either for lease of for sale. The asking price is $2 million to purchase or $14 per square foot for a lease.
The company is marketing the property as the only retail building of its size available in Lawrence — something to think about when the argument arises that Lawrence is overbuilt when it comes to retail — and certainly the only one in downtown with 105 private parking spaces.
• Yes, those 105 parking spaces outside of Borders are private spaces that go with the building. Right now, though, the lot is the best parking deal in Downtown Lawrence.
Almost every day the lot is full of people, despite the Borders store being empty. That's because unlike most public parking lots in downtown, there are no meters and no two-hour time limit.
Thus far, Gonsher said the owners of the building — a group out of Michigan — don't have a problem with the public's use of the lot.
"I know the ownership group wants to be as friendly as they can be to the community," Gonsher said. "I don't think it bothers them as long as there isn't a tenant in there. But the 105 spaces definitely go with the building."
I'm sure most who park there understand that, but I'm not sure all do. City commissioners recently got a complaint that the outdoor lights in the lot were no longer on at night. Commissioners had to point out that the lot wasn't the city's, and it might be difficult to ask the owner of a vacant building to pay to leave the lights on.
• One area where the traffic moves at a very non-parking lot pace is on Crescent Road near Kansas University. The speed limit in the residential area is 20 miles per hour but the average speed recently was measured by the city at 31 miles per hour.
That's caused some residents of the neighborhood to request that the city build traffic calming devices on the road. But certainly not all residents of the neighborhood are excited about that prospect. City commissioners at their meeting this evening will get to sort through it.
The city's Traffic Safety Commission recommended on an 8-0 vote that the area be added to the city's list of future traffic calming projects. Speed humps or speed cushions are the most likely type of devices, but such details would be decided at a later time. Some neighbors, though, said they would rather see the city explore making some roads in the area one-way in an attempt to calm traffic. It will be interesting to see whether that idea gains any momentum tonight. As with all traffic calming projects approved by the city, there's no real timeline on when the project may actually get built. The city has some traffic calming projects that have been approved for several years but have not yet been built.
• As we previously reported, one area that may finally get its approved traffic calming devices is the Breezedale area south of 23rd and Massachusetts streets. The city is scheduled to repave some residential streets south of 23rd and Massachusetts in 2012, and is proposing to add the previously approved speed hump devices. First, though, the city must get approval from the city's Historic Resources Commission since there are properties in the area that have a historic designation. (What? You don't think horse and buggies went too fast through that area years ago?) The city also likely will check back in with the current residents of the neighborhood and determine that there is still consensus to build the devices.
A few other area also may get some extra work as part of construction projects in 2012. They include:
Monterey Way from Sixth Street to Bob Billings Parkway. City engineers want to add bike lanes to the stretch of street when it is microsurfaced this year. But there are stretches of the street that have on-street parking that could be a problem for a bike lane. No word yet on how the city proposes to deal with the parking issue.
23rd Street bridge near Haskell Indian Nations University. New sidewalks will be constructed on both sides of 23rd Street and across the bridge. There also will be a new connection to the multi-use trail that exists underneath the bridge and new lighting will be added to the trail entrance near the bridge.
Sixth and Kasold. A new bus lane/right turn lane will be added on Sixth Street where it intersects with Kasold Drive as part of repaving project for Sixth Street.
City commissioners will discuss the proposed 2012 street projects at their 6:35 p.m. meeting today.

Copyright 2018 The Lawrence Journal-World. All rights reserved. This material may not be published, broadcast, rewritten or redistributed. We strive to uphold our values for every story published.