Stilwell — For at least one half Saturday night, Lawrence High's boys basketball team was gritty enough to give Olathe Northwest all it could handle in the championship game of the Blue Valley Shootout.
However, the Ravens' supreme talent, length and athleticism won out down the stretch, as ONW took the tournament title, 57-41.
Photo Gallery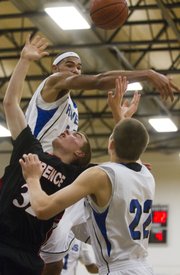 LHS boys vs. Olathe Northwest
Though LHS limited Northwest's duo of future NCAA Div. I players Willie Cauley (University of Kentucky commit) and Shavon Shields (Nebraska signee) in the first half, the Lions eventually wore down as the night progressed.
By grinding through the first half and holding ONW to 5-for-21 shooting, Lawrence (3-1) took a 16-15 lead into the third quarter.
The game changed in the second half, though, as the Ravens turned up their intensity and opened the third on a 15-4 run, with Shields scoring nine of his game-high 20 points in that stretch.
Lions coach Mike Lewis gave ONW credit for taking over down the stretch.
"I don't know exactly (what changed the game), but I'm sure it was something on their side — a dunk or a three-pointer or something," the coach said.
To make matters worse, Lawrence wasn't finding many quality looks in the third quarter, when it hit just three of its nine attempts. Senior KJ Pritchard, sophomore Bryce Montes de Oca and freshman Anthony Bonner each contributed a bucket as the Ravens outscored the Lions, 19-6, in the third.
Though the Lions found a little more success in the fourth, they made just 37 percent of their total shots in their first loss of the season.
Senior guard Logan Henrichs (six points, nine rebounds) said much of Lawrence's struggles were the result of the length and athleticism of the 6-foot-6 Shields and 6-10 Cauley. Henrichs said the difference between the Ravens' defense (Cauley had blocked five shots) and what they'd seen from other opponents was night and day.
"When you want to go for a basket, and you realize they're still there with you, it changes it up and makes you think about it," Henrichs said of the duo's ability to alter the LHS offense.
Senior guard Anthony Buffalomeat (nine points, six boards) agreed.
"They always alter your shot with their length," he said. "They're still pretty hard to get around, even though they're tall. You wouldn't think they're as fast (as they are), but their length stops everything."
As Lawrence finally started producing in the fourth — Pritchard (11 points) made three baskets, while Montes de Oca scored inside, and Shane Willoughby and Buffalomeat each nailed a three — the Lions did much of that by trapping and gambling more, which occasionally led to ONW scores. Plus, Cauley scored nine of his 13 points in the final eight minutes.
Said Lewis: "There in the second half, we just let things get away from us, and it was just a little bit too much of a roller-coaster ride for us to stay buckled in."
While the Lions were disappointed with the second-place finish at the shootout, Lewis said he liked the way his team competed against a very talented ONW squad, and he expects LHS to use the 16-point loss as motivation.
"This helps us next week. This helps us in practice," Lewis said. "You have a little fire in your belly from something like this, and that's good this time of year."
Buffalomeat indicated it won't take long for the Lions to get over the setback.
"We'll look back and work and learn from it and get ready to play next Friday against Free State," Buffalomeat said.
The Firebirds will play host to LHS at 7 p.m. Friday.
Copyright 2018 The Lawrence Journal-World. All rights reserved. This material may not be published, broadcast, rewritten or redistributed. We strive to uphold our values for every story published.