Photo Gallery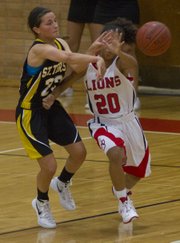 LHS girls vs. Kansas City St. Teresa's
Lawrence High nearly rallied from an eight-point, fourth-quarter deficit, but the Lions fell short Friday night in a 35-34 girls basketball loss to Kansas City (Mo.) St. Teresa's.
"Our defense allowed us to stay in the game," LHS coach Nick Wood said. "We just didn't make enough shots to allow us to win."
Monica Howard led the Lions with eight points, followed by Krista Costa with seven and Christina Haswood with six.
LHS was hurt by 32 turnovers, while St. Teresa's committed just 14.
Copyright 2018 The Lawrence Journal-World. All rights reserved. This material may not be published, broadcast, rewritten or redistributed. We strive to uphold our values for every story published.