Photo Gallery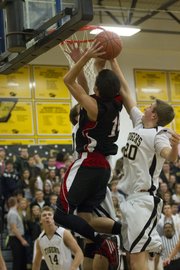 LHS boys vs. Blue Valley
Stillwell — Lawrence High can finally go into the final day of the Blue Valley Shootout without being in a consolation game.
After defeating the tournament's home team, Blue Valley High, 51-34, LHS boys basketball earned a spot to play for the championship tonight. That will make it three meaningful games in three days for the Lions.
"I keep telling them if you're 16, 17, 18 years old, you can't get tired," coach Mike Lewis said. "I think we'll be ready to go."
The Lions (3-0) have made a drastic turnaround from a season ago, and with two solid victories in a row, the team is showing that it's no fluke.
Junior Shane Willoughby said the evolution started in the offseason.
"It starts with practice," he said. "There's so much energy, and everybody gets everybody else better. We've got a great senior class leading us."
LHS started the game energetically, scoring nine points on 4-for-4 shooting. The Lions never trailed.
Lewis said the team had good balance scoring in the quarters — 13, 11, 10 and 17 — and the defense didn't have many lapses. The Tigers scored on consecutive goals when the Lions had three turnovers in a row.
But senior Logan Henrichs stopped any sort of momentum with a three-point play near the end of the third quarter that pushed the lead back to 11. Henrichs had a big night with a game-high 18 points, eight in the fourth quarter alone.
The home crowd wasn't much of a hindrance for the Lions. Because they started the game so well, there was never much of an opportunity to give the fans anything to cheer about. The small gathering LHS brought along was at least as vocal.
Lewis found the dynamic between the crowds amusing.
"It was fun," he said. "I tell these guys they're lucky to be high school basketball players."
LHS will have potentially its toughest task of the season at 7 tonight when it plays Olathe Northwest in the title game.
The players don't need to have much information about the Ravens to know how big the game is.
"I know they've got some big names going to some big schools," Willoughby said.
"We'll play them like any other team, play hard like we have been all year and hopefully stay undefeated," added senior Anthony Buffalomeat.
Copyright 2017 The Lawrence Journal-World. All rights reserved. This material may not be published, broadcast, rewritten or redistributed. We strive to uphold our values for every story published.