A man who was injured while trimming trees Friday afternoon in North Lawrence was flown to a Kansas City area hospital.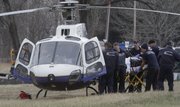 Division Chief Eve Tolefree of Lawrence Douglas County Fire and Medical said the man was taken to Kansas University Hospital in Kansas City, Kan. He was injured about 3:15 p.m. while working for a private company, she said.
The man's injuries were not life-threatening, Tolefree said.
Copyright 2018 The Lawrence Journal-World. All rights reserved. This material may not be published, broadcast, rewritten or redistributed. We strive to uphold our values for every story published.