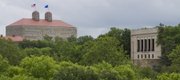 Subscribe to the email edition of Heard on the Hill and we'll deliver you the latest KU news and notes every weekday at noon.
Your daily dose of news, notes and links from around Kansas University.
• For the second year, Student Union Activities is sponsoring a "Dancing with the Stars" type of show.
And now, you can nominate who you think those "stars" should be. Nominations should be available online at SUA's website or at its office on the fourth floor of the Kansas Union. Nominations can be submitted until Feb. 14.
Ten couples of "highly recognizable people" will perform at the event, scheduled for 7 p.m. March 2 in the Kansas Union Ballroom.
• Tyrel Reed, the former KU basketball player, will have a few book-signing events coming up.
He'll be at the Dillons store at 3000 W. Sixth St. in Lawrence from noon to 2 p.m. and at the Dillons at 29th and Urish in Topeka from 4 to 6 p.m. on Friday, Dec. 16.
He'll also be in Overland Park at the KU Bookstore at the Jayhawk Central Student Union on the KU Edwards Campus near 127th Street and Quivira Road.
He will be there from 1:30 to 3:30 p.m. on Saturday, Dec. 17.
His book, "Reed All About It: Driven To Be A Jayhawk," is co-written with former Topeka Capital-Journal reporter Tully Corcoran, who's now working for Fox Sports Houston.
Reed is currently playing basketball in Belgium, and has been accepted into the KU School of Medicine to study physical therapy.
UPDATE: Thanks to colleague and First Bell maven Mark Fagan, who alerted me to a few additional signing locations.
• Friday at 9 a.m., we're scheduled to know who the next president of Emporia State University will be.
The Kansas Board of Regents is choosing from among four finalists — Kathryn Cruz-Uribe, provost and vice president for academic affairs at California State University, Monterey Bay since 2007; Michael Shonrock, a senior vice president for auxiliary services, enrollment management and student affair; Todd Diacon, deputy chancellor of the University of Massachusetts Amherst; and Karla Hughes, provost, vice president for academic affairs and a tenured professor at Morehead State University.
The board is meeting in Emporia at 9 this morning to choose a successor to Mike Lane, who said that his visiting other campuses to inquire about job possibilities was causing concern, and "detracted from my work that needs to be accomplished at ESU."
UPDATE: I got the day wrong here earlier... It's right now!
• No dancing required for submitting a tip for Heard on the Hill. Just send me an email at ahyland@ljworld.com.
Copyright 2018 The Lawrence Journal-World. All rights reserved. This material may not be published, broadcast, rewritten or redistributed. We strive to uphold our values for every story published.