Photo Gallery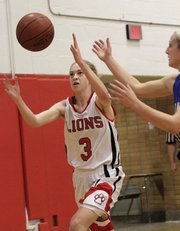 LHS girls vs. Junction City
Lawrence High and Junction City looked as if they were playing in mud for an entire girls basketball game, with the exception of 10 game-changing seconds.
The Lions (2-0) outlasted the visiting Blue Jays, 35-30, on Tuesday after a rare burst of action in the third quarter.
"It saved the game for us, in my mind," coach Nick Wood said.
The Lions, who led 15-14 at the half, had no points for the first 7:50 of the third quarter. Defense kept LHS in the game when the offense disappeared, and Junction City had gained only a three-point lead.
Then, with just less than 10 seconds to go, junior Anna Wright found herself wide-open for a three to tie the game. Almost immediately, junior Krista Costa stole the ball and ran free down the court, just getting the ball in before the third-quarter buzzer sounded.
All of a sudden, the whole complexion of the game changed, and the Lions used the momentum to build an eight-point lead to start the fourth. The Blue Jays did get within three at one point, but there wasn't enough time left to turn it into a comeback.
"If we weren't able to get some stops here and there, it could have been a long night for us," Wood said. "We sure as heck weren't doing much offensively."
Four players led all scorers with nine points: juniors Monica Howard and Bri Anderson from LHS and Shanna Witt and Jessie Gjerstad from Junction City.
Wood said his team, which has a starting roster of four juniors and one freshman, is going through growing pains as young players gain experience.
The two teams combined for 47 turnovers, but for Wood, it still felt great to win ugly.
"It feels a lot better to be 2-0 than 1-1," he said. "We're never going to apologize for winning."
Copyright 2018 The Lawrence Journal-World. All rights reserved. This material may not be published, broadcast, rewritten or redistributed. We strive to uphold our values for every story published.