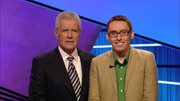 A 30-year-old Kansas University employee from Lawrence can knock an item off his bucket list after his upcoming Jan. 13 appearance on the television game show "Jeopardy!"
"I've been watching the show since I was 10," said Preston Nicholson, assistant director and pre-law adviser at KU's University Advising Center.
He said he has always enjoyed trivia games and frequently participates in local bar trivia events.
Nicholson said he qualified for the show by taking an online test. After he passed the test, he auditioned in Kansas City, and passed that, too.
He appeared on "Wheel of Fortune" once, in 2004, he said, so he had some game-show experience going into the taping.
Though he has finished taping his appearance on the show, he's not allowed to discuss the results until the program airs.
He said he spent time studying by cramming in some extra trivia events, boning up on his Shakespeare and looking through online archives of old show transcripts.
But, in many cases, all three contestants knew the answer, and it became a race to see who could buzz in first, which is a challenge all its own. Buzz in too fast, he said, and you'll be locked out for a short period of time. Wait too long, and your opponents can sneak in before you.
He found out a bunch of other things, too, he said. The stage was smaller than it looked on TV, for example. The questions aren't blown up to a large size, but are only displayed on one of the 30 small screens on the big board. And split-second mental math for those Daily Double wagers isn't an easy thing.
But, all in all, he said he really enjoyed the whole thing.
"It was a surreal experience," Nicholson said.
Copyright 2018 The Lawrence Journal-World. All rights reserved. This material may not be published, broadcast, rewritten or redistributed. We strive to uphold our values for every story published.