Photo Gallery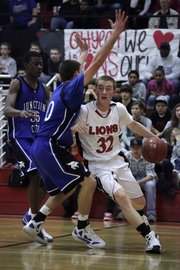 LHS boys vs. Junction City
With a full season in front of them, Lawrence High's boys basketball players used the past as motivation to put away Junction City, 59-42, in their season opener Friday night.
The Lions weren't too excited about their four-point advantage at the half, and coach Mike Lewis made it clear to them that the third quarter would be the time for LHS to prove it could really close out a win.
Senior guard KJ Pritchard said the Lions took that message to heart in their 12-3 run to open the third.
"There was no lettin' up," Pritchard said. "We've had too many close games in the last couple years. We didn't want to let them back in it."
From the opening possession of the second half, it was clear LHS (1-0) had no interest in keeping things close with the Bluejays (0-1). The Lions ran a set play out of the break, and Pritchard lobbed a pass toward the rim for senior Anthony Buffalomeat, who finished it with an easy lay-in.
Later, Pritchard scored back-to-back transition buckets — first with a steal and two-handed jam, then on a layup after another JCHS turnover — to give the home team its first double-digit lead of the game, 38-27.
Lewis liked watching his team get buckets off turnovers, but he said not all of them came with hard work.
"It's one of those classic first games where your defense isn't very good," the coach said. "A few of those basketballs kind of dropped in our lap, and we were able to go out and run."
Lewis described some of the play as "rag-tag" in the opener, but he thought the Lions did a nice job of settling down in the third quarter.
"We're still learning about our team, and we don't want to come out and be lethargic," he said.
Energized by the early-second-half spurt, Pritchard, Buffalomeat, junior Shane Willoughby, senior Logan Henrichs, sophomore Bryce Montes de Oca and junior Jake Mosiman all scored in the third quarter.
Lewis said stretches like that gave LHS some positives to take away from the win.
"I liked the way we shared the ball," he said.
Lawrence only had nine assists (Willoughby led with four) against 13 turnovers, but the Lions' ball movement and patience in the half-court often led to Bluejays fouls, so LHS didn't finish with as many assists as it would have with baskets on those plays. Still, the Lions went 14-for-23 at the foul line, where Montes de Oca often benefited from his teammates' passes.
The 6-foot-7 sophomore finished with 12 points and nine rebounds, plus three blocks. He became a focal point of the offense, and although he went 3-for-12 from the floor, he made six of 10 free throws.
Lewis said the big man, who played some varsity minutes late in his freshman season, will learn how to finish around the rim.
"We want to throw it inside. We want to have a balanced attack," Lewis said. "Bryce is obviously a presence. He's still learning and he's still young."
Buffalomeat, who finished with 16 points and five boards, said Montes de Oca has size and touch inside, and he trusts the center to finish.
"Coming into this year, I was looking forward to playing with Bryce," Buffalomeat said, indicating the LHS pivot will be a critical piece for the Lions.
With the sophomore's size, Pritchard said, Lawrence can expect to have an advantage in the paint.
"He's gonna be the biggest kid almost every game. He takes up space," Pritchard said after a 10-point night of his own.
The great thing about playing with Montes de Oca, Pritchard added, was that when he, Buffalomeat or Henrichs attacked the basket, Junction City couldn't afford to help off of the big man.
"He makes it a lot easier out there for all of us," Pritchard said.
The Lions expect that theme to continue.
"If we want to be really good," Pritchard said, "he's got to be really good and help us out."
On Thursday, Lawrence plays in the first round at the Blue Valley Shootout.
Copyright 2018 The Lawrence Journal-World. All rights reserved. This material may not be published, broadcast, rewritten or redistributed. We strive to uphold our values for every story published.