Douglas County District Attorney Charles Branson said Friday that the man suspected of robbing Central National Bank on Wednesday had targeted the financial institution since last summer.
The district attorney has filed two counts of robbery against Elliot R. Werner, 25, Lawrence, in connection with the robbery earlier this week.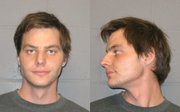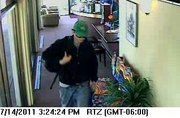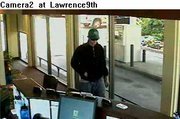 In addition, Branson said in court that prosecutors believed Werner attempted to rob the bank on July 13 and Nov. 25, and he succeeded on July 14 and Wednesday. Lawrence police and the FBI publicly released a photo of the suspect after the July 14 robbery at Central National, 603 W. Ninth St., but Friday was the first time Branson indicated the earlier robberies were linked to Wednesday's robbery.
"We do anticipate filing additional charges for the earlier offenses, and we believe those changes would mean Mr. Werner is subject to long-term incarceration," Branson said Friday in asking for a $250,000 bond.
Defense attorney Kevin Babbitt asked pro-tem judge James George to set bond at $50,000 because Werner would agree to electronic monitoring by a bonding company and live with his sister in Lawrence as he decides how to assist in his own defense.
George did order electronic monitoring if Werner posts bond, which he set at $150,000.
Babbitt said Werner had lived in Lawrence for several years but was originally from the Chicago area.
Branson said prosecutors filed two charges in connection with Wednesday's robbery because two bank tellers were listed as victims. Werner is next scheduled to appear in court on Dec. 21. Branson provided few details about the attempted robbery allegations other than to say Werner "approached the bank" July 13 and Nov. 25.
After Friday's hearing, prosecutors met with two bank tellers, one who was a victim in the July robbery and one who was a victim of both.
"I think they were relieved to have somebody arrested," Branson said. "They had concerns that he may make bond."
Werner, who Lawrence police officers apprehended Wednesday after a brief foot chase, could have faced federal charges for the robbery because the bank is FDIC-insured, but Branson said he and federal prosecutors decided to proceed in state court because they believe he could face a stiffer prison sentence if convicted.
The two robbery charges Branson filed in connection with Wednesday's incident are mid-level felonies that each carry from 31 months to 136 months in prison, but prosecutors are seeking to file additional charges for the earlier incidents.
"Our ability to seek a lengthier sentence will come in the fact that we will seek a conviction in this case and a conviction in a second case where he will have an increased criminal history," he said.
Branson said his office had seen cases in the past in which suspects return to a business they have robbed before.
"Robbery, by its very nature, is a violent crime," the district attorney said, "with the potential for victims, witnesses and bystanders to be hurt. Therefore, that makes it a very serious crime in general."
Copyright 2017 The Lawrence Journal-World. All rights reserved. This material may not be published, broadcast, rewritten or redistributed. We strive to uphold our values for every story published.