Prosecutors Thursday filed four charges, including attempted aggravated battery on a law enforcement officer, against a man arrested after a standoff Tuesday night with Lawrence police.
Prosecutors also charged Brian Lee Bailey, 22, with aggravated intimidation of a witness or victim, criminal restraint and domestic battery. Bailey was arrested Tuesday night after police surrounded a mobile home in the 3300 block of Iowa Street.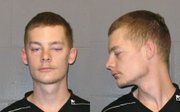 According to the charges, prosecutors accuse Bailey of preparing to fire a revolver at a Lawrence police officer at a door where Bailey believed the officer was about to enter the mobile home. He eventually peacefully surrendered.
The incident stemmed from a domestic disturbance inside the home earlier in the night, and no one was injured. A woman had exited the mobile home earlier before the man's standoff with police.
A judge set Bailey's bond at $20,000 and scheduled his next court appearance for 2 p.m. Monday.
Copyright 2018 The Lawrence Journal-World. All rights reserved. This material may not be published, broadcast, rewritten or redistributed. We strive to uphold our values for every story published.