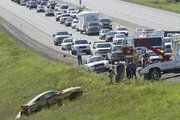 The Kansas Highway Patrol says a Fort Riley man is expected to be ticketed for speeding for his involvement in a two-vehicle crash Thursday afternoon on the Kansas Turnpike west of Lecompton.
Trooper Greg Peters said Friday that investigators believe Eugene Riddick II, 29, was driving at a speed much faster than 80 mph on Interstate 70 just before he lost control of his 2010 Ford Mustang and struck the side of another car that a Naples, Fla., couple were traveling in.
The crash occurred just after 3 p.m. Thursday in the turnpike's eastbound lanes, and it was the first of three serious crashes in Douglas County that all occurred within one hour of each other. The two other crashes happened on U.S. Highway 24-40 near the Leavenworth County line and on Kansas Highway 10 just west of Eudora. The KHP closed both directions of K-10 for six hours Thursday, causing major traffic issues into the evening.
In the I-70 crash, Peters said a witness who was driving 80 mph alleged that Riddick passed him easily just before the crash.
Riddick was treated and released from Lawrence Memorial Hospital. Peters said Robert Berkoski, 67, and Joyce Berkoski, 62, who were traveling in the vehicle Riddick struck, were both taken Thursday to Kansas University Hospital in Kansas City, Kan., where they were in stable condition and expected to recover.
Peters said troopers also believed the treads on Riddick's tires were worn, which also caused him to lose control of his Ford Mustang. The trooper said he expected to write Riddick a ticket for driving too fast for conditions and improper tires.
In the other two serious crashes:
l The KHP said Donald Burnett, 63, of Manhattan, was taken to KU Hospital after he was injured in a motorcycle crash on southbound U.S. 24-40. Burnett, while headed south, applied brakes suddenly to his 2010 Yamaha motorcycle and laid the motorcycle down on its side to avoid a car in front of him that had stopped suddenly. Burnett and a passenger Doreen Burnett, 65, were thrown from the vehicle.
Neither person wore a helmet, according to the KHP. Doreen Burnett was treated and released from LMH, a hospital spokeswoman said. Information about Donald Burnett's condition was not available Friday.
l Richard A. Vandruff, 44, of Tonganoxie, was also taken to KU Hospital in the K-10 accident Thursday afternoon when a tire blew on the cement truck he was driving westbound, according to the KHP. Vandruff lost control of the truck, swerved onto the north shoulder and then veered across the lanes and onto the median before the truck rolled onto its side.
Master Trooper Aaron Klaassen said at 2 p.m. Friday that Vandruff was in stable condition at KU Hospital.
Klaassen said the truck nearly ended up in K-10's eastbound lanes before it tipped over in the median.
"It could have been really bad, but luckily it wasn't," Klaassen said in reference to a possible head-on collision involving the truck.
Copyright 2018 The Lawrence Journal-World. All rights reserved. This material may not be published, broadcast, rewritten or redistributed. We strive to uphold our values for every story published.