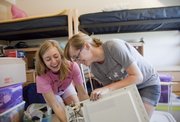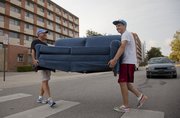 They came to Daisy Hill by the carload: the mini-fridges, the microwaves, the closet organizers, the futon frames and the televisions of all sorts and sizes.
And, on Friday, the items all had to be lugged from parking lots up to rooms in residence and scholarship halls at Kansas University. It was move-in day, an occasion that brings its share of pulled muscles and sweat along with the emotions that go along with parents and their children separating, often for the first time.
Nicole Cox, a freshman from Topeka, was settling into her new room at Templin Hall on Friday afternoon — it still felt a bit like a hotel room, she acknowledged.
The move-in was relatively painless, she said. She didn't have any large items to lug around. Her three suite-mates provided most of the furniture in the room.
"I brought a sweet iPod dock," she said, as her main contribution to the room.
She travels light, Cox said.
"She doesn't travel light in the clothing department," piped in her mother, Linda Calderwood, pointing out that she brought one entire bag filled with nothing but shoes.
"That's not that many," Cox said.
Cox, who plans to major in pre-medicine or pre-pharmacy, was ready for college about two weeks into her senior year of high school, her mother said.
"She's been independent since the day she was born," Calderwood said of her first child she'll be dropping off at school. "So we're going to be just fine."
One floor down, Alex Wolfrum, Ryan Xiao, Dan Phalen and Nick Caldwell — sophomores all — were old pros at this, having navigated three large sections of a couch up the residence hall's stairs.
The couch may have been "a bit ambitious," they agreed, but at least it was upstairs now. Nothing to worry about until they have to move it back out. The four also agreed it was good to be back on campus.
"Freedom," said Wolfrum, expressing the sentiment.
The weather was sunny and hot, but not blistering.
Still, it was hot enough for Davi Nicoll, a freshman from Baxter Springs, who took a break before embarking on the last trip up the stairs to her room in Lewis Hall.
"It's sweaty," she said.
Cindy Woolston, the mother of Nicoll's friend William Woolston, was standing nearby.
"Women don't sweat, they glisten," she told Nicoll.
Nicoll seemed unconvinced.
"I'm sweating," she said.
Copyright 2018 The Lawrence Journal-World. All rights reserved. This material may not be published, broadcast, rewritten or redistributed. We strive to uphold our values for every story published.