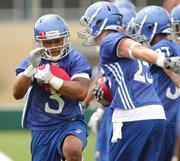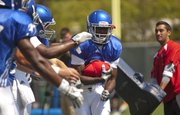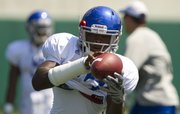 The coaches have said it and a couple of players have Tweeted it. But there's just something more convincing about actually hearing the words come out of the players' mouths.
When the Kansas University football team hits the turf at Memorial Stadium for the season opener against McNeese State 17 days from today, true freshmen will play. And the upperclassmen won't mind.
"They are the real deal," senior offensive lineman Jeremiah Hatch said of the freshman class. "These guys, they want to play. They're doing everything to try to win, even if that means they have to front with us. They're not scared. Sometimes we have to calm 'em down and be like, 'Hey, cool out.' They're diving in the water head-first. I'm very impressed."
When head coach Turner Gill revealed his first full class at Kansas back in February, it was clear that he was excited about the haul. But he wasn't the only one who realized how much the newcomers could help the team.
Twenty-seven players signed that day. Twenty-six of them were freshmen.
A few have left, but the Class of 2011 remains large. Gill said on signing day that he anticipated playing about half of the class in some form this season. Although that number has dropped a little now that camp has begun — Gill said at KU's media day on Aug. 9 that he could see eight to 10 true freshmen playing this season — KU's second-year head coach hasn't backed off his stance that the team's top freshmen would be on the field this fall.
"I'm not saying they have to be ready to play by the second ballgame," Gill said. "But I'll play guys that I'm anticipating, by the fifth, sixth, eighth or ninth game, are gonna have an impact on our football team. I'm probably more open (to playing freshman) this year. The first year, I didn't see a whole lot of true freshmen that were ready to play. In this group of guys, I think there are more who are ready. What that number is, we'll all find out here soon."
With summer workouts now behind them and preseason camp in full swing, the returning Jayhawks have had plenty of time to get a feel for what this new group is all about. Almost to a man, the upperclassmen describe the freshmen the same way.
"They came in here from Day One, and I kind saw that they were serious about being here," senior tight end Tim Biere said. "What I want to see from the freshmen is for them to come in and not talk about what they're gonna do but prove what they're gonna do. If they go out there on the field and they light somebody up or they're making all kinds of plays, that's what's impressive to us."
Added senior Steven Johnson: "This class is good. They just have to have to the right mind-set and they have to learn from the seniors how it's gotta be. If we leave a good imprint on them, I'm pretty sure KU will be in good shape in the upcoming years."
When talking about the future, some of the same names kept popping up.
"I want (Blue Springs, Mo., running back) Darrian Miller to play because he's like the slipperiest back I've ever tried to tackle," Johnson said. "He's just slipping and sliding. He's like a snake, and he squirms out of stuff. And he's fast. And then we've got a running back from East St. Louis, (Tony) Pierson. I went one-on-one with him this summer, and I almost lost my shoe. I was like, 'What in the world?'"
A couple of other players who always seem to come up played their high school ball in Olathe.
"Adonis (Saunders) and Victor (Simmons), they're track athletes so they can run all day," Biere said of the Olathe North grads. "But they were actually murdering the workouts, and they were like, 'Hey, we can do this. We're gonna play.' And that's cool to see from some freshmen, them saying, 'I'm gonna take your spot.' That pushes the older guys. And they're all like that. It seems like a really good class to me."
Another rookie who performed well all summer but really has turned it on during fall camp is linebacker Collin Garrett, of Beaumont, Texas. Defensive coordinator Vic Shealy said Garrett had amazed the coaching staff by outperforming some of the upperclassmen in numerous drills.
"Collin Garrett, he's always just like, 'Man, I just wanna be like you, Steven. I'm trying to play,'" Johnson said. "I hosted him as a recruit, and, even then, he was always asking me what he had to do to play."
Throw in freshman kicker Alex Mueller, who is competing with Ron Doherty for place-kicking duties, and freshmen wideouts JaCorey Shepherd and Marquis Jackson, whom offensive coordinator Chuck Long said could play right away, and you're looking at your list of eight.
"They look so good, they're so competitive," Hatch said. "They're out there yelling and talking trash like they've been here. I like it, man. I wanna see it. Different guys have different opinions, but once I see guys out there talking like that, that means they have confidence in what they're doing."
Gill agreed.
"That's a plus," he said. "That's great to hear, and it's even greater that the upperclassmen know that. They believe in their ability. They're used to winning, they're used to being successful, and they have confidence in their ability. They've backed it up, too. Everybody can talk, but they've seen some of their skills. I can't talk you into having confidence in your ability. You gotta have it innately. And I think we've got some guys who have that."
There's nothing political about Gill's decision to play — or not play — true freshmen. It's all about ability.
"As a head coach, you gotta decide if you want to stick with the protocol of, 'Well, he's an upperclassman, he's been here for two or three years, he deserves at least a chance to play,'" Gill said. "But if a guy's better than another guy, I'm gonna play him. Some coaches say, 'He's an upperclassman, I'm gonna give him his chance.' I'm not that way. If a guy's better, then I think it's worth playing him right away."
Copyright 2018 The Lawrence Journal-World. All rights reserved. This material may not be published, broadcast, rewritten or redistributed. We strive to uphold our values for every story published.