KU faculty pick basketball seats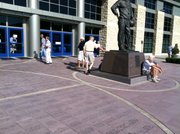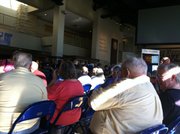 Allan Hanson, a Kansas University anthropology professor, now knows exactly how long he's worked for KU: 45.205479452 years, according to his seating sheet.
At the KU men's basketball "select-a-seat" event for faculty, every billionth of a second counts.
Hanson, the 11th-most tenured faculty at the event, was joined by his son, George, and grandson, Jack, who will share the two seats in the faculty section of Allen Fieldhouse throughout the year.
The family has been picking seats for about five years, and Jack said Grandpa got it right.
"They're in a great place," Jack said.
Based entirely on years of service, faculty hopped up one at a time for their chance to pick seats for the coming basketball season.
The mostly gray-haired crowd strategized while waiting for their names to be called.
"Walk in and drop your butt in the first seat," said one seat-selector who likes to keep it simple. Unfortunately, renovations for the fieldhouse kept the seat-selectors from actually seeing their seat, and they were left to choose from printed out seat section guides.
And everyone kept a close eye to make sure the process was fair.
When a rather large, muscular man shot to the booth after a "Mary" was called up, the man quickly assured onlookers he was picking up seats for a family member, which is allowed.
David Crisp was happy to help out and pick seats for his sister, who was busy at church. Crisp made sure his sister, with 42 years of service behind her, had a good spot.
The perfect seat? In the corner by the KU team, Crisp said.
"You don't have people blocking you," said Crisp, who's been choosing seats for years.
He smiled when asked whether he'll benefit from all the years his sister has worked at KU.
"I'll probably get the Missouri tickets," Crisp said.
Copyright 2018 The Lawrence Journal-World. All rights reserved. This material may not be published, broadcast, rewritten or redistributed. We strive to uphold our values for every story published.