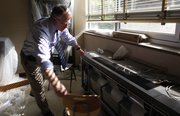 The multimillion dollar job to replace the air-conditioning, heating and ventilation systems at Murphy Hall illustrates the challenge that Kansas University and other state institutions of higher education face when it comes to deferred maintenance.
The mechanical systems that are being replaced have been working for more than 50 years.
"Our maintenance division is doing a good job keeping them operational, but you can't put another Band-Aid on it because there is nothing left to stick it to," said Jim Modig, director of design and construction management at KU.
Because of a lack of funding, universities continue to fall behind in taking care of deferred maintenance problems for buildings.
That's the assessment of the most recent report, revised in February, by the Kansas Board of Regents, on needed repairs and renovations on campuses.
The estimate of the deferred maintenance backlog has grown to $904 million, up from $825 million in 2008.
And that increase came despite an infusion of funds from the Legislature and through the federal stimulus bill.
The state had kicked in $63.7 million from legislation approved in 2007, and officials dedicated $45.8 million over three fiscal years of federal spending.
But the to-do list continues to grow "due primarily to the increased age of the physical plant, and the continued under-funding of both deferred and annual maintenance, and would have undoubtedly been higher had the economic downturn not held construction labor and material costs in check," the report said.
The report said the universities need about $92 million annually just to pay for ongoing maintenance and prevent an increase to the backlog.
At KU, the backlog of projects totaled $256.9 million in Lawrence and $70.1 million at KU Medical Center.
Kansas State's total was $314.3 million; Wichita State, $73.4 million; Emporia State, $57.1 million; Pittsburg State, $79.6 million and Fort Hays State, $52.5 million.
Over the past several years, some of the larger deferred maintenance projects completed at KU included utility tunnel improvements, and numerous improvements at Wescoe, Haworth, Malott and Murphy halls.
The deferred maintenance problem is affecting private and state institutions nationwide, according to the report.
The 1960s and 1980s saw huge growth in higher education. Nearly 40 percent of regents' university buildings were built during that period, and now those buildings are requiring major repairs.
Several years ago, the Kansas Legislature approved a five-year plan to tackle deferred maintenance. Under that plan, the state was going to make annual allocations to KU's Lawrence campus of $8.6 million, $5.7 million, $4.3 million, $4.3 million and $2.8 million.
What KU got was full funding the first two years, a reduced package of $3.9 million in the third year, and nothing for the next two years as the economy and, subsequently, state revenues went into a tailspin.
In addition, the initial legislation allowed KU to capture interest earnings on certain funds. That provided $2.6 million in 2008, but with interest rates falling, it provided only $200,000 the past year.
The federal stimulus funding helped fill the gap, but shortfalls continue, Modig said.
Since the problem has become highlighted, the regents have instituted a policy that every new campus building must have a maintenance plan in place.
But with the average age of buildings at KU standing at 45, necessary repairs continue to mount, Modig said.
Copyright 2018 The Lawrence Journal-World. All rights reserved. This material may not be published, broadcast, rewritten or redistributed. We strive to uphold our values for every story published.