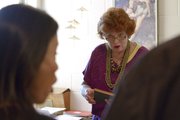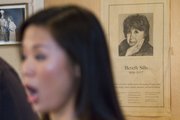 Joyce Castle isn't exaggerating when she says most of her life has been spent in a room with one other person.
"That's what I have done all my life," she said, from a seat in her memento-lined studio. "I've been in a room, alone, with a voice teacher or with a coach. And that's just what you do."
Such is the life of a professional opera singer — something Castle has been for four decades. The Baldwin City native studied at KU before her career as a mezzo soprano took her to stages all across the world, from New York to Paris to Vienna to Lawrence's Lied Center. Working with Castle gives KU students a chance to get one-on-one, eye-to-eye help from a woman who has played 134 different roles — some more than once.
"Having Joyce on our staff is an amazing thing — she's been at the very top of the opera world, singing internationally for over 40 years," said Robert Walzel, dean of the School of Music. "Somebody with that experience in such a wide variety of roles and situations gives our students real-world experience right here. Because every time she goes and sings, she brings some of that back here and shares it with our students. We're very, very lucky to have Joyce. Also, she's a treasure because she's one of our alumni."
Though she says she takes fewer roles than she did when she came back to KU a decade ago, Castle is still jet-setting for her art. During the summer, Castle was in Princeton, N.J., performing "The Consul" for Opera New Jersey. This fall, she'll do a cabaret piece in New York, and in the spring, she'll perform in her 135th career role with a part in "A Midsummer Marriage" at Opera Boston.
In between all that, she'll be working one-on-one with her students in her Murphy Hall studio. It's a situation similar to one she's been in all her life as a professional singer, but in this case, the roles are reversed.
Etta Fung, a doctoral student in vocal performance from Hong Kong, has worked this way with Castle for two years. She says training with Castle has been invaluable.
"I cannot begin to tell you how much I have learned from Joyce in a short period of two years," said Fung, who performed as Gretel in KU's "Hansel and Gretel," which toured in Germany over the summer. "She has changed so much about me vocally and how I perceive operatic singing.
"I had a complete makeover vocally, and the result is I discovered many things that I thought I (could not) do."
For Castle, the training process is still fascinating, even after a lifetime of participation, as a singer and a coach. She says she couldn't give it up and loves the balance teaching and singing give her.
"One song can be just so very different in the hands, in the voice, in the throat, in the body of another singer. So, it's fascinating, I think. It's hard work," she said. "We're looking eye-to-eye and they're trying to get the voice as best they can. Trying to make the voice as beautiful as he or she can. That's what I'm hoping for — that's the quest."
Copyright 2018 The Lawrence Journal-World. All rights reserved. This material may not be published, broadcast, rewritten or redistributed. We strive to uphold our values for every story published.