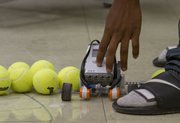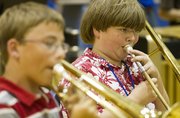 Every summer, hundreds of youths from across the state and beyond come to Lawrence to attend camp at Kansas University.
But they're not making lanyards, shooting bows and arrows or having s'mores around a campfire. They're solving crimes, tromping through wetlands in search of marine biology and filling prescriptions, among other things.
KU offers dozens of summer camps for academics and athletics each year. Kids from preschool through high school can spend anywhere from an afternoon to several weeks on KU's campus learning and honing their skills in debate, engineering, foreign languages, science, law, math, music, writing, pharmacy, football, baseball, golf, soccer, cheerleading, swimming, tennis, volleyball and, of course, basketball.
"Camps are a way to engage the community directly," says Teresa MacDonald, director of education for the KU Natural History Museum, which hosts three camps per year. "They reach young people and families and show people what KU does. It's a strong community connection."
The museum offers some of the unique camps at KU, including Forensic Fun, Science-Palooza, Geology Explorations, Dinosaur Detectives, Space Odyssey and Aquatic Biology.
"Our camps are a very intensive science experience," MacDonald says. "The classes are short, about five hours long, and they have quite challenging science content.
"We want to take them that little bit further. Challenge their thinking, but in a fun way."
They've conducted the camps since the 1970s, and they're aimed toward kids ages 8 to 11. "It's an age when young people are still interested in science, an age where we can engage them in science with science," MacDonald says. "It's a time when they're really engaged in critical thinking skills."
The campers are primarily from Kansas, though they do get students from other states, often those who are in Lawrence to visit relatives. Each camp typically has 20 students.
The School of Engineering offers a variety of camps for high school and middle school students. Project Discovery is for the older kids. It's a week long, and it's hands-on and highly intensive; students work together on a real engineering project. They also take part in learning sessions with engineering professors and graduate students and go on industry tours. The cost is $500, which covers room and board and lab materials.
The younger students may attend a daylong camp called Engineering in Disguise. During the day, campers work on a variety of hands-on projects designed to make them think creatively.
Jill Hummels, director of public relations for the School of Engineering, says "attendance is booming," with enrollment maxed out at 150 participants. As with the museum's camps, most of the attendees are from Kansas, though they have had students from all over the country.
These camps are a great way to introduce teens to the fun of engineering, and, yes, it is fun," Hummels says. "They're also as a means (by which) to offer a sneak peek of KU.  
"In light of the recent legislative push to support engineering education, the camps are an important way to promote engineering as a college major and get students to study it in Kansas," she adds. "The more students who study engineering in Kansas, the better that is for Kansas industries."
Another camp KU offers is Pharmacy Camp. KU is one of the only universities in the nation to offer it.
"The only other school that I'm aware of that offers it is the University of Arkansas," says Gene Hotchkiss, associate dean of the School of Pharmacy. "They contacted us three years ago to ask us how we do it."
It's a weeklong camp for high school students that is full of hands-on activities such as learning how to administer an inhaler, inject insulin and dispense prescriptions. They also take field trips to area pharmacies.
"This camp helps us attract the best and the brightest students to our program," Hotchkiss says. "It's a program to enhance awareness. It's a career and educational pathway experience."
Copyright 2018 The Lawrence Journal-World. All rights reserved. This material may not be published, broadcast, rewritten or redistributed. We strive to uphold our values for every story published.