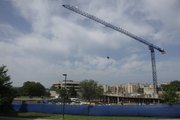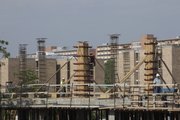 The dirt is flying at Kansas University this summer.
Approximately $91 million worth of projects are under construction, substantially complete or have been awarded, according to a KU report.
The big project is construction of a laboratory and research building for the KU School of Engineering.
The $18.8 million Measurement, Materials and Sustainable Environment Center, located near Burt and Eaton halls, will be used for research in areas such as advanced materials and biofuels.
The building, which is scheduled for completion at the start of 2012, will allow researchers from a variety of fields to work together.
"This will provide the university with a cutting-edge facility to continue to produce innovative work," said Stuart Bell, dean of engineering. "Students will also have opportunities that give them a competitive advantage as they prepare to enter the work force."
The emphasis on the research will be to test products for possible commercial use.
Funding for construction of the building came from a $12.3 grant from American Recovery and Reinvestment Act, and $6.5 million from the School of Engineering.
Several other projects are going on, including:
$21.6 million in energy conservation measures to make buildings across the campus more energy efficient.
$16.2 million construction of the Business, Engineering, Science and Technology building on the Edwards campus. The 75,000 square-foot building is slated for completion in November.
$13.3 million renovation of the Gertrude Sellards Pearson residence hall.
$3.5 million in mechanical and electrical improvements to Murphy Hall.
$1.9 million in additions to the Lied Center.
$1.4 million in electrical and mechanical improvements to Dyche Hall.
$747,650 roof replacement at Robinson Center.
$577,627 remodeling of classrooms at Wescoe Hall and $388,000 additions to the underground.
Copyright 2018 The Lawrence Journal-World. All rights reserved. This material may not be published, broadcast, rewritten or redistributed. We strive to uphold our values for every story published.