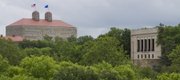 Subscribe to the email edition of Heard on the Hill and we'll deliver you the latest KU news and notes every weekday at noon.
Your daily dose of news, notes and links from around Kansas University.
• I've got a few staff shuffles to report in today's edition of Heard on the Hill.
The first involves Todd Rogers, KU's assistant dean of career services in the KU School of Law.
He'll be headed back to the University of Colorado-Boulder starting on Sept. 19 to serve as that school's assistant dean of career development. He previously had worked for a year in the school's Career Development Office, which he will now lead.
Rogers and I have talked a few times, and I always found him to be upfront about the challenges facing graduates in the legal profession that I've written about several times.
He just posted another item on the school's blog on Friday related to national salary data for law school graduates.
Though we'd spoken several times over the phone, I didn't actually meet him in person until I stopped him randomly while I was filling in for our "On the Street" reporter recently.
• Also, Jayme Uden, a former assistant director of residence life at KU, has taken a new position at Park University in Parkville, Mo.
Uden now serve as Park's assistant dean of student life, as of July 25. In that position, he will serve as adviser to the university's student government and will serve as the chief judicial officer for students, among other duties, according to the release announcing his hiring.
Uden had been at KU since 2006.
Here's some Heard on the Hill wishes of good luck to both Uden and Rogers in their new posts.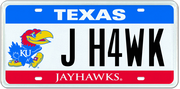 • A Jayhawks license plate in Texas that I wrote about back in April has been approved for use, according to a statement from Kansas Athletics.
So if you live in Texas, you can get your personalized plate with a Jayhawk, a white background and the word "Jayhawks" written on the bottom of the plate.
They will be available for purchase this fall. No release date has been set, but if you're interested, you can fill out a form here.
Some of the commenters on the original story snickered a bit at the way it looks like it says "Texas Jayhawks" on the plate, but it looks pretty sharp.
Texas contracts with a private company, My Plates, to provide a plethora of plate designs (admit it, that's just fun to say out loud).
You can showcase not just your KU pride, but also your University of Texas pride and even your Dr. Pepper pride. The universities receive payment for the use of their logos, and the state keeps between 35 and 40 percent of each transaction. Companies, however, donate the proceeds from the use of their logos to a charity of their choosing.
The KU plates will start at $55 per year.
• I'd see if I can make up a Heard on the Hill license plate, but I don't know how I'd fit "Send your tips to ahyland@ljworld.com" in seven or eight characters.
Copyright 2018 The Lawrence Journal-World. All rights reserved. This material may not be published, broadcast, rewritten or redistributed. We strive to uphold our values for every story published.