Photo Gallery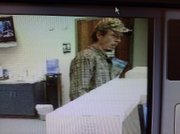 Suspects in area bank robberies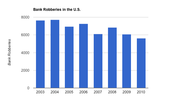 It's pretty easy to rob a bank.

You don't need much of a plan, don't really need a weapon, probably won't get much resistance from a bank teller and can get in and out quickly.
Two men — still not captured — followed that formula in two recent bank robberies, one in Lawrence on July 14 and one in Ottawa on July 15.
But here's the downside for criminals: 99 percent of banks that are robbed have surveillance cameras and alarm systems, some banks give robbers marked bills or exploding dye packs, and they'll be pursued not only by local authorities, but also the FBI, which investigates such crimes because bank money is federally insured.
Not dissuaded yet?
On average, a bank robbery nets about $7,000, but when you weigh the money against the potential six- to 20-year federal prison sentence, it doesn't seem like such a great move, said Phil Gay, president of Profit Protection, a firm that trains banks in security.
"It's a high-risk, low-reward" crime, Gay said.
Criminals seem to be taking note.
Since 2003, bank robberies in the United States have dropped 27 percent, from 7,644 to 5,628 in 2010. In Kansas, bank robberies have fluctuated between 26 and 47 during the same years, with 33 reported in 2010.
While the numbers have dropped, it's as easy to rob a bank today as ever because security philosophy is rooted in the safety of staff and employees, Gay said. No resistance is made.
"We don't want to take any risks," he said. "Money can be replaced."
So nearly anyone can walk into a bank, demand money, and a teller will hand it over.
That leaves bank security in the hands of deterrence — aided by the stiff prison sentences— and apprehension.
Gay noted all the factors that weigh against a bank robber: surveillance footage and security tactics, such as tracking devices that can be attached to stolen money.
In the Ottawa case, surveillance cameras shot a clear picture of the suspect, and law enforcement obtained a description of the vehicle used as the getaway car, which was later abandoned. The FBI recently released the name of the suspect, Timothy Glen Caskey, also wanted in connection with several other crimes. His last known location was in Texas, and it was possible he was headed to Mexico.
In the Lawrence case, a hat obscured the face of the suspect, and authorities have not released a vehicle description.
Though there have been no arrests yet in either of these two cases, the odds of the robbers eluding capture for long are against them, said Bridget Patton, FBI spokeswoman. Bank robberies boast one of the highest solution rates for all crimes — about 60 percent, according to FBI statistics. In 2011 so far, there have been 20 robberies in Kansas, 13 of which have been solved, Patton said.
The FBI has also been utilizing new options for some of the serial bank robbers that skip across states lines, such as electronic billboards and bank robber websites. The Kansas City field office operates BanditTrackerKansasCity.com, which features information about local cases and ways for the public to submit tips electronically.
The fact that the Lawrence and Ottawa bank robbers escaped capture initially doesn't necessarily mean their freedom will last for long, Patton said.
"We're going to keep working it until it's solved," she said.
Copyright 2018 The Lawrence Journal-World. All rights reserved. This material may not be published, broadcast, rewritten or redistributed. We strive to uphold our values for every story published.