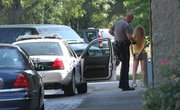 Lawrence police officers Monday morning arrested a 36-year-old Lawrence man on outstanding warrants after a forgery investigation Monday morning at a Lawrence hotel, said Sgt. Matt Sarna, a police spokesman.
According to jail records, police arrested the Lawrence man, Geoffry S. Beers, on two outstanding municipal court warrants and a state warrant in which he's accused of absconding from his parole related to a 2007 robbery at Kwik Shop, 845 Miss.
Sarna said Beers was arrested at the hotel after an employee at Walgreen's, 3421 W. Sixth St., alleged a man had passed counterfeit bills to make a purchase at 5:30 a.m. Monday.
Based on a description, officers located a truck in the parking lot at Holiday Inn Lawrence, 200 McDonald Drive, and police later found Beers and a 42-year-old Lawrence woman in a room at the hotel, Sarna said.
An officer placed a woman in handcuffs about 10:30 a.m. and drove her from the hotel in a patrol car. But the woman later was released, Sarna said. He said the investigation into the use of counterfeit money was ongoing.
At times Monday morning, four patrol cars were in the hotel's parking lot. Officers could also be seen collecting evidence from inside and examining an older-model pickup truck in the hotel's parking lot east of the building.
Copyright 2018 The Lawrence Journal-World. All rights reserved. This material may not be published, broadcast, rewritten or redistributed. We strive to uphold our values for every story published.