Photo Gallery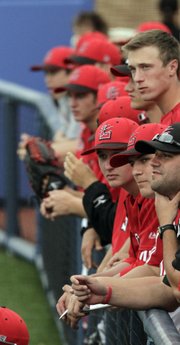 LHS baseball vs. Bishop Ward
High school coaches are rarely completely satisfied with a victory, unless it comes in the state championship.
But Lawrence High baseball coach Brad Stoll couldn't contain his excitement after his Lions toppled Kansas City (Kan.) Bishop Ward, 11-1, in a run-rule-shortened, five-inning game Thursday at Kansas University's Hoglund Ballpark.
The Cyclones won the Kansas 4A state championship last season.
"We beat a premier team in the Midwest," Stoll said. "Bishop Ward and (coach) Dennis Hurla are synonymous with fantastic baseball, so for us to come out and play like we did, I'm really excited. That's something to build on."
It was the first game of the River City Baseball Festival, hosted by Free State.
Last season, the Lions lost all three games in the tournament during a disappointing season.
Senior leadoff hitter Ross Johnson didn't waste any time erasing that memory.
He scored the first run in the first inning after taking a walk, stealing second and racing home on a single by sophomore Shane Willoughby.
Stoll is starting to expect Johnson to make a big impact in the first inning.
"If he doesn't, hopefully his parents don't give him anything to eat at night," Stoll joked. "You know, lock him in his room."
The Lions took advantage of wild pitching from the Cyclones' Evan Burns, scoring three more runs in the first inning to open a 4-0 lead.
Junior pitcher Garrett Cleavinger didn't give up a hit until the third inning, when the Cyclones scored on an RBI single by Austin Kochsmeier.
Lawrence (5-4) responded in the bottom of the third, tallying three runs after a couple of errors by Bishop Ward.
In the fourth inning, junior Matt Sutliffe blasted a ball 20 feet over the right-field fence 330 feet away from home plate, giving the Lions a 9-1 lead.
Stoll said the best thing about the home run was that it came into a strong wind.
"He's a very strong and raw-boned kid, but that was impressive," Stoll said.
Sutliffe has been hot this week, picking up six RBIs in the Lions' last two games.
Stoll said he hopes the Lions in the top third of the order can get on base so pitchers are forced to feed Sutliffe fastballs.
"To his credit, he can turn around a fastball with the best of them," Stoll said.
With a thunderstorm looming, Cleavinger and the Lions shut down the Cyclones in the top of the fifth inning to secure the run-rule-shortened victory.
Cleavinger, an ultra-competitive player, conceded that he pitched well. He gave up two hits and struck out four.
"There's always stuff you can work on and always ways to get better," Cleavinger said. "But I'm happy with it."
Johnson said the Lions played one of their best games of the season.
"I think we're on a roll right now," Johnson said.
Stoll plans to send junior Cameron Solko to the mound for the Lions' game against Shawnee Mission Northwest at 3 p.m. today at Hoglund Ballpark. Last season, the Cougars finished third in Kansas 6A.
Copyright 2018 The Lawrence Journal-World. All rights reserved. This material may not be published, broadcast, rewritten or redistributed. We strive to uphold our values for every story published.