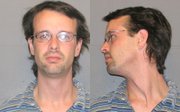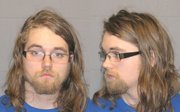 Douglas County prosecutors have filed charges against two more Lawrence men in connection with a December armed robbery at Walmart, 3300 Iowa, bringing the total number of defendants in the case to six.
Prosecutors filed one count each of conspiracy to commit robbery against Nathan Todd Moses, 30, of Lawrence, and Andrew Dean Schmutz, 21, of Lawrence, in connection with the Dec. 13, 2010, robbery at Walmart's money center. The men are accused of serving as lookouts during the robbery.
Judge Pro-Tem James George set bond for both men at $5,000 on their own recognizance, and Schmutz and Moses were released from jail Tuesday after appearing in court.
Prosecutors charged two women, Jadin M. Schmutz, 20, of Lawrence, and Billie Jean Jessup, 20, of Summerdale, Ala., with conspiracy to commit robbery for also allegedly serving as lookouts during the incident.
In February, prosecutors charged two Lawrence men, Lonnie Scott Schaefer, 22, and William Oliver Paterson, 19, with several counts in connection with the armed robbery.
Copyright 2018 The Lawrence Journal-World. All rights reserved. This material may not be published, broadcast, rewritten or redistributed. We strive to uphold our values for every story published.