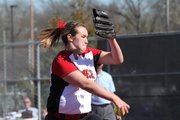 The Lawrence High softball team won the first game of all three doubleheaders so far this season.
All three times, though, the Lions have lost the second game.
On Tuesday, the Lions knocked off Olathe North, 3-0, in the first game but fell, 7-2, in the later tilt. Coach Reenie Stogsdill said she thinks a lot of the second-game struggles have to do with pitching.
Senior Lauren Massey pitched a shutout in the first game, but Stogsdill sent freshman Amanda Montgomery to the mound for Game 2 in order to get her more experience.
The Eagles scored three runs in the first inning, and the Lions couldn't come back.
"Once you see a pitcher four or five times through, you should be able to make adjustments and hit. That's what happens," Stogsdill said. "That's why we need to get Amanda some innings, so she can help us."
Senior Kristen Bell hit two triples in the first game, driving in junior Mallory Reynolds with the first and scoring on a single from senior Kasey Waite after the second.
Bell's defense has always been her strength, but Stogsdill has been impressed with Bell's confidence at the plate. Bell told Stogsdill before the season that she was going to contribute with the bat more.
"She's doing it," Stogsdill said. "She's like having a coach on the field. She's a leader. She takes control. She knows what's going on. That's what you want out of your catcher. I think she's the best catcher in the league."
The Eagles put two runners on in the seventh inning, but Massey struck out the final three batters to lock up the victory.
In the second game, the Lions (3-3) left multiple runners on base and couldn't recover from a 5-0 hole in the third inning. Bell hit a solo home run, but the Lions couldn't get the bats going.
Stogsdill said it was frustrating to drop the second game, mostly because she just hates to lose.
"But I keep seeing so many positive things that I think we're making strides forward," Stogsdill said. "We're gonna get there."
Next up is a doubleheader against vaunted Olathe Northwest at 4:15 and 6 p.m. on Thursday at LHS. Stogsdill considers the Ravens the best team in Kansas.
But as she told her team after the game, the Ravens have a loss already this season, so they aren't unbeatable.
"We're going to come out here and give them everything we got," Stogsdill said.
Copyright 2018 The Lawrence Journal-World. All rights reserved. This material may not be published, broadcast, rewritten or redistributed. We strive to uphold our values for every story published.