Overland Park — Every offensive football play starts with a snap, so it's understandable to overlook them.
Photo Gallery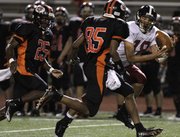 LHS football vs. Shawnee Mission Northwest
LHS football vs. Shawnee Mission Northwest on September 24, 2010.
Well, at least until they affect the ending of a game like they did in Lawrence High's 23-20 loss to Shawnee Mission Northwest Friday night at the Shawnee Mission South District Stadium.
With a minute to go and the Lions down a field goal, they faced a first-and-10 at the Cougars' 39-yard line. The snap skidded on the ground to sophomore quarterback Brad Strauss. He took a moment to gather it up, and by that time, the timing of the play was completely off. Then he rolled out left and tried to throw a deep pass.
Northwest senior defensive back Kenneth Mings intercepted it, dragging his left foot inbounds. The game was effectively over.
"I have to throw that ball out of bounds," Strauss said. "Just trying to do too much."
Cougar senior quarterback Stephen Mangelsdorf kneeled three times, but Lawrence used two timeouts to slow down Northwest's attempt to run out the clock. The Cougars faced a fourth-and-17 at their own 14 with 15 seconds remaining.
The safe option for Northwest? Punt it away. The radical option? Have the quarterback run around for as long as possible and take a safety. That scenario would have given Northwest a one-point victory.
Cougars coach Aaron Barnett elected to do neither, instead running a scrambling, short passing play that Lawrence stuffed at the 15-yard line. Turnover on downs.
"I'm not sure exactly what he was thinking," LHS coach Dirk Wedd said.
"I thought they were going to punt it," junior receiver Anthony Buffalomeat said. "I didn't even know what was going on."
The Lions kicking team marched onto the field, and after a Northwest encroachment penalty, they faced a 26-yard field goal attempt with 6.6 seconds remaining to send the game to overtime.
Bad snap. Ballgame. Barnett off the hook.
"He gave us the opportunity, but we just couldn't execute," Wedd said.
The wacky ending to the game capped a night when the Lions (2-2) couldn't convert on four drives in the second half down just three points.
"It's real frustrating," Buffalomeat said. "We had plenty of chances, we just couldn't finish. A game like that should be ours, but we just didn't pull through."
Strauss, who rushed for 121 yards and threw for 230, was visibly upset after the game about his two interceptions in the fourth quarter. The first happened on a tipped pass at the Northwest 13-yard line with 4:38 to play.
Wedd said he was proud of his team for countering Northwest's "punches in the mouth." On the first offensive play of the game for Northwest (1-3), senior Antoine Smith rushed outside for a 41-yard touchdown. On the Cougars' second drive, senior James Gregory rushed three times right up the middle, scoring on a three-yarder.
"We've made some steps, but I want to take a leap instead of baby steps, so hopefully we will," Wedd said.
Copyright 2018 The Lawrence Journal-World. All rights reserved. This material may not be published, broadcast, rewritten or redistributed. We strive to uphold our values for every story published.